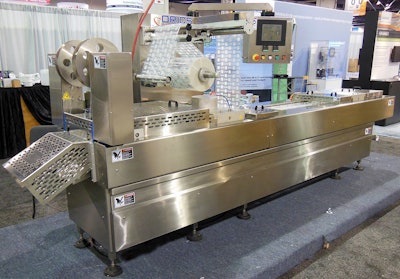 Film is pre-heated and then trays are vacuum thermoformed via a customized and interchangeable tool. The FFS-30 supports a maximum pocket size of 16-in. x 12-in. and can be divided into virtually any number of pockets/trays that fit within that maximum size. This allows the end-user to easily change container sizes and volumes with a simple tooling change--providing maximum flexibility for a single machine to produce multiple products. In addition, the tray depth can be varied, up to a maximum depth of 4-in., with its HMI controls.
The FFS-30 provides ample space for hand or automated product filling and the company manufactures a full line of liquid and particulate fillers for product placement. Once filled, the line advances to the sealing sector where a top film is positioned from rollstock and sealed to the bottom, thermoformed tray. Additionally, a full array of atmospheric options for the sealer including gas flush, vacuum gas flush, controlled atmosphere, and vacuum sealing is available.
The system may be purchased with full aseptic construction making the unit suitable for dairy and medical device applications.
The FFS-30 is capable of forming flexible, semi-rigid, and rigid trays and the top seal may also be formed from registered film for precisely located product branding, as well as sealing and die-cutting Tyvek film for medical device applications.
Companies in this article