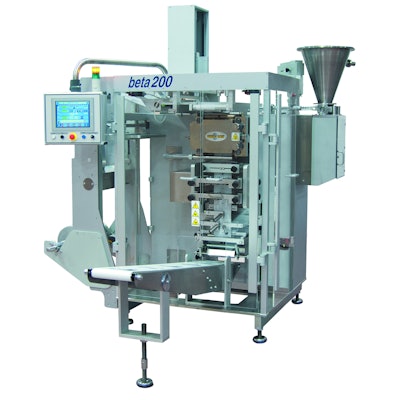 The machine forms, fills, and seals sachets ranging from 40-200 millimeters in width, 50-170 mm in length, and 0.1-100 milliliters in volume.
Made completely of aluminum and stainless steel, the Beta 200 contains dosers for powders, granules, pastes, liquids, and wet wipes. The machine's film unwinding is performed by synchronized brushless servomotors for constant film tension and automatic reel alignment. Quality control includes N-line check-weighing with an automatic, tolerance-controllable reject system, as well as auto-regulation of the doser.
Following the form-fill-seal process, sachets are collated according to user-specified groupings. The Beta 200 conforms with GMP criteria for ease of cleaning, and meets both FDA and CE regulations.
The Beta 200 can store up to 30 working programs, and offers is able to manufacture both embossed and ink-jet printed sachets. All programmable data is entered and edited via touch screen. The machine also can be monitored via modem, useful for remote assistance.
Companies in this article