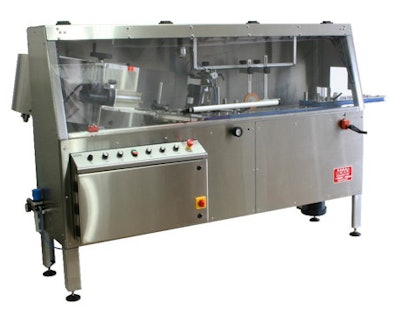 The TruSort-32 unscrambler features rotating bottle reject with speed control.  Calibration markings, labels, and indicators help document changeovers.
 Bottle turning by pneumatic actuators helps to maintain production speeds, and bottle handling is from left to right.

Gear motor driven spacing belts are used for bottle feeding and spacing, and delivery carrier belts permit additional adjustments to guarantee container placement on the conveyor.
 A single gearbox for the main belt system eliminates all transmission system belts and springs, and is powered by a ¾ Hp motor.
  The machine uses single-hand wheel adjustment for intake and delivery carrier belts. The 10 cu. ft .hopper with 12-in. feed belt is standard; loading height is between 39- to 43-in.
The TruSort-32 also features: heavy-duty painted frame built with 2 x 2 x 0.187 square tubes; adjustable positioning to minimize change parts requirements; minimum use of aluminum to increase machine life;
 Cad designed, CNC manufactured; leveling by mounting screws; low electric and pneumatic consumption--electric and pneumatic requirements:
  110 Volts, 60Hz, 15 Amps, 15 CFM @ 80 p.s.i.; 18-month guarantee on all parts under normal use, except belts.
Companies in this article