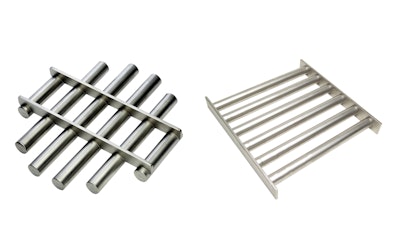 These magnets fit square, round, and odd-shaped processing lines or hoppers, and are available in Ceramic, Rare Earth and Xtreme Rare Earth magnet strengths, enabling professionals in diverse industries to choose the ideal level of protection for their specific application.
In operation, the product will flow between the 1-in. diameter tube magnets that are spaced on standard 2-in. tube centers and held rigidly in place. These all-stainless steel units are installed by simply placing the grate in the hopper with the ends of the magnetic tubes or tie bars resting against the sides.
Ceramic powered separators are suitable for removing medium to large tramp metal such as bolts, nuts and hand tools. Rare Earth powered separators are designed to remove small ferrous contaminants such as pins, staples and clips. Separators powered by Xtreme Rare Earth magnet material are best at removing weakly magnetic fine ferrous contamination.
These powerful magnets feature a neat, uniform glass bead surface finish. Xtreme Rare Earth ProGrade Square, Rectangular and Round Grate models feature sanitary construction. Rare Earth and Xtreme Rare Earth designs are suitable for temperatures up to 150 F.
Companies in this article