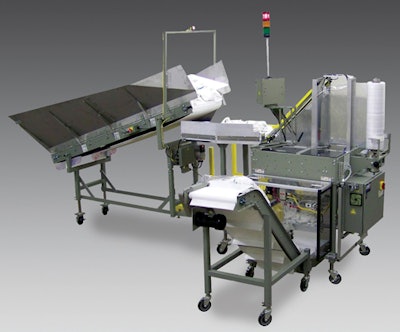 Rennco, a brand of Pro Mach, is pleased to exhibit two vertical packager models at Pack Expo 2012; a Model 301SF with a belt infeed unit and a Model Vertic·L-PP unit with an automatic weighing/loading system.
The Model 301SF packager, one of our standard packager models, will be equipped with a servo driven seal system that makes for ease in adjusting seal jaw opening size from the HMI screen or by use of set-up recipes. This feature also assists in obtaining greater packaging speeds. The all electric machine results in an overall energy reduction in the region of 50% over the conventional bagger system.
Also on display will be the Model Vertic·L-PP (pouch pack) system. This system is designed for packaging multiple items in a pouch configuration. This packager can be configured for manual loading where the operator places items into the counting area; or for a more automatic approach can be configured with a weigh scale that will allow for a specific weight of items to be placed into the package.
All Rennco vertical packagers are capable of sealing polyethylene, polyolefin and PVC films from 0.5 mil to 4.0 mil and are equipped with interlocked perimeter guarding.
Come and see the line of Rennco packaging machinery on display and in operation in our booth, N-4016; which is part of the Pro Mach Island at Pack Expo.
Companies in this article