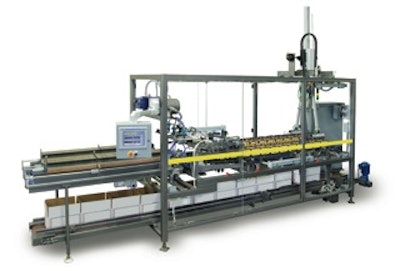 Since the BCI-100 integrates the carrier erector and inserter on one in-line platform, with one processor, it significantly reduces floor space requirements and simplifies operation and communication.  A dual-lane magazine feeds carrier blanks upright to two erector stations where they are vacuum picked and handed off to independent opener arms.  Rotary cams positively engage bottom latches.  The BCI-100 detects improperly latched carriers and rejects them automatically allowing the machine to continue running nonstop.
The BCI-100's servo-driven inserter head maintains control of the carriers throughout the insertion process.  Dual grippers grab two carriers per side to place four at a time into a case waiting below.  Powered corner gates guide the carriers into the case for consistent, reliable insertions.
The BCI-100 is equally adaptable to multiple carrier styles including 4-pack carriers.  The standard 6-ft. magazine, storing 1100 carriers, can be loaded on the fly and is expandable to meet customer needs. 
Companies in this article