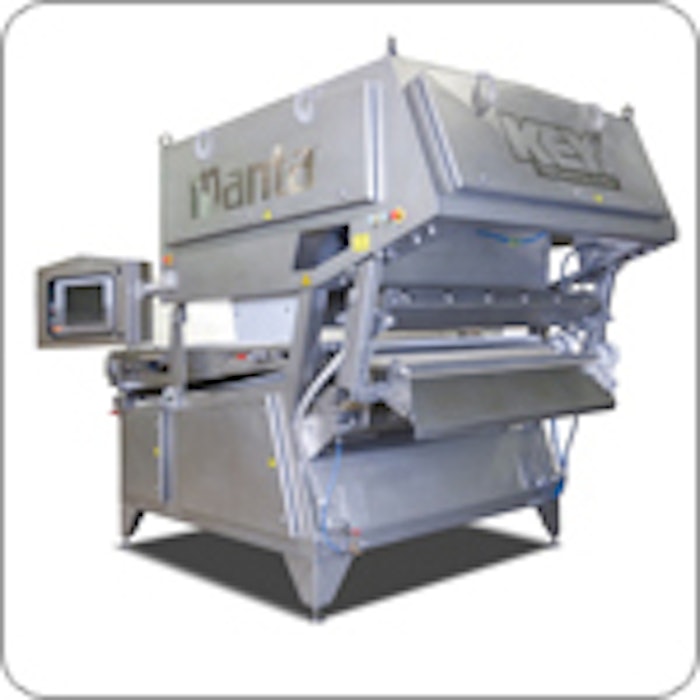 The sorter automatically ejects product to a dedicated stream that can be reworked and recovered, separately from material that is ejected as waste such as foreign material (FM) and non-recoverable defective product. Traditional two-way sorters typically require that the reject stream be re-sorted using costly manual inspection or a second automated sorting system. Depending on the application, moving to three-way sorting can increase yields, reduce the risk of FM in finished product, reduce labor costs, and/or minimize capital equipment expense.

Available in two widths, Manta maximizes throughput within a space-saving footprint. Handling up to 27 metric tons (60,000 pounds) of product/hour, Manta performs high-resolution imaging of each object to detect and remove the smallest defects and foreign material via both camera and laser sorting. Using Key's proprietary color cameras, Manta recognizes each object's size and shape as well as millions of color differences to remove defects based on user-defined accept/reject standards. Integrating Key's Raptor laser technology into Manta allows the sorter to inspect objects' structural properties, which is often the most effective method for detecting and removing foreign material.

As a high-speed belt sorter, Manta discharges product with a consistent trajectory that enables the software to accurately pinpoint foreign material and defective products to eject. With its two-ejector configuration, Manta is equipped for three-way sorting is extremely versatile. It can be changed over within seconds via the touchscreen to achieve traditional two-way sorting, in situations when off-grade products have no recoverable value.

Based on Key's powerful G6 electro-optical platform. Features a modular design and high-performance connectivity standards such as Camera Link, FireWire, and Ethernet.
Companies in this article