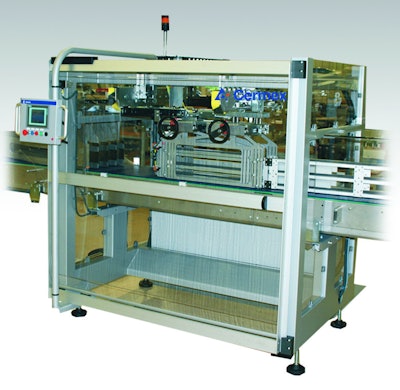 Installed upstream from a case packer or shrink-wrapper, DiviArm is designed to distribute products at high speed without stopping the flow and without blocking/bumping products.
DiviArm is designed to transfer products (bottles, containers, cans and cartons) fed in upright on one lane. The equipment is fitted with a guiding arm mounted on two axes. The transverse axis distributes products between lanes while the longitudinal axis synchronizes the product progression so that products are guided at the speed of the lower conveyor without bumping.
The system automatically empties the lane divider if the downstream machine stops so as to restart quickly, with no falling products and no loss in synchronization. Product protection is reinforced by the wide scale of guide position adjustments and choice of material used to suit the product shape, resistance, label position, etc.
DiviArm may be integrated with shrink-wrappers and case packers, or may be used as a stand-alone machine which can be integrated into any automated packaging line. In particular, DiviArm comes with its own independent electrical cabinet. Depending on the customer's line configuration and technical standards, several control systems and motorizations are available.
Accessibility to the setting points is easy, thanks to the cantilever frame structure. DiviArm reaches speeds of 60 cycles/min. (350 products/min). The compact footprint of the DiviArm manages up to 12 lanes. Operators will also appreciate the low noise level.