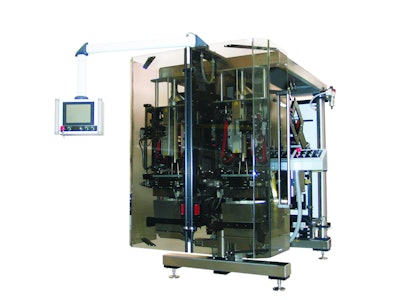 Production managers can bag the same product using the two augers and form-fill-seal units or run different products at the same time. This gives operations the ability to easily mix or match production runs to meet daily requirements.
X machines come equipped with two Automation Supply & Engineering, Inc. augers that are each accurate to + one gram. This level of accuracy means less overall giveaway and more profitable operations. A remote operator station equipped with a spot-check weighing system also increases weight consistency. Based on test bags weighed at set intervals, control software automatically adjusts auger dose up or down to meet package specifications. Some customers will find the option of adding a second remote operator station beneficial for X machine two-line operation.
The X machines form pillow bags from 3- to 15-in. long and from 2- to 7.5-in. wide. The rugged stainless steel cantilevered frame and other components are designed to withstand the rigors of 24/7 duty cycles. The cantilevered frame's open sides contribute to faster and more ergonomic loading of bag film and printer ribbon. This means less downtime during film and ribbon changeover.
Vacuum-pull belts provide greater flexibility in the type of films utilized. The machine features electronic servo motion control for greater accuracy and faster and more precise changeover. Integrated speed control of takeaway conveyors improves overall packaging line integration. Ethernet connectivity offers many operational benefits, including remote data acquisition.
Companies in this article
Videos from Matrix Packaging Machinery