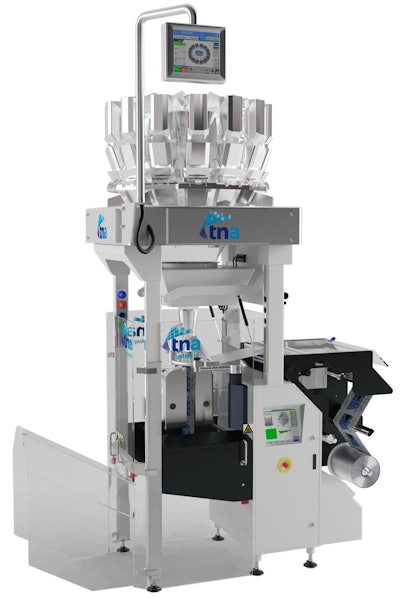 New features include the new tna intelli-weigh omega multi-head scale, the tna hyper-detect metal detector, and tna flo-thru former.  Suitable for high volumes of sweet and savory snacks, confections, cereals, pasta, powders, meat and poultry and fresh and frozen produce, the tna robag can be fully integrated up- and down-stream onto existing packaging lines.
The new tna intelli-weigh omega multi-head scale incorporates digital lattice filters--individually adjustable collating chutes for high-speed discharge, and new high-frequency technology to minimise load cell vibrations. tna's hyper-detect metal detector includes the company's patented technology and optimised design to provide the high performance. The tna flo-thru former has been developed to maximize the area inside the tube for uninhibited product flow with a 30% reduction in weight.
With improved modularity and core component capability, the tna robag 3ci is also completely upgradable to any combination of jaw size or configuration (rotary single, double, triple or rotary flat jaw), granting food manufacturers full flexibility of bag size, type and application on a single system.
Other design highlights include a new robust 38.1 cm (15-in.) screen for increased ease of operation and a simplified film system providing easy film threading with more consistent film tension for improved film handling and tracking.
 
Companies in this article