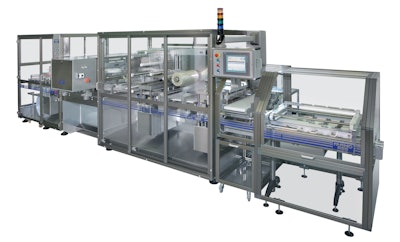 The Prima K7 runs up to gently handles fragile products at 35 cycles/min., and is operated by PLC with transfer on one lane for the production of trays in PET, PVC and polystyrene. Other highlights include a new syringe buffer system with a capacity of more than 2,000 syringes; a loading station for vials and ampoules; and forming and loading capabilities from the operator side, resulting in a more compact forming module and easier changeover procedures.
All main movement groups are operated by brushless motors that provides high-performance position accuracy, as well as easy speed and acceleration control with quick-step regulation.  All motors are connected via a Profibus system for parameter adjustment from display in machine cycle mode. 50mm ports are present on both sides of the main groups during machine stop for easy changeover.
The Prima K7's balcony-constructed frame allows maximum access to all packaging areas.  The sheath and tubing passages are easily accessible for maintenance.  The machine also offers easy access to valves, electrical junction boxes and water collection trays.
Companies in this article