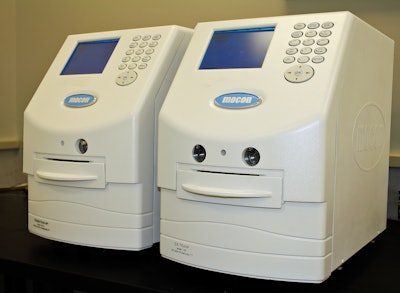 The OX-TRAN® Model 1/50 for oxygen and PERMATRAN-W® Model 1/50 for water vapor testing are part of this program. (The entry-level package promotion applies to one of each unit or two of the same model.)  The dual system offering is also suitable for educational or research institutes for teaching or training purposes.
Because the bundled units provide multi-gas testing capability at cost, partners in the packaging supply chain—such as converters, resin suppliers, etc.—who are being asked to participate in performance testing can also benefit from the offer.
Both the PERMATRAN-W® Model 1/50 and the OX-TRAN® Model 1/50 are easy-to-install and simple-to-use. Their easy-to-read screens allow intuitive configuration and feature step-by-step calibration.  Horizontal test cells offer convenient film mounting, and a pneumatic clamp ensures a consistent seal. Results can be downloaded and archived.  A quick start function speeds set-up time and comes preset with ASTM standards to assist with compliance.
The units utilize Mocon's new frequency modulated precise relative humidity method. The systems feature an automatic flow setting and are designed to protect against over/under pressure and sensor damage.
The OX-TRAN® Model 1/50 uses the patented proprietary coulometric sensor which provides absolute and accurate results and complies with ASTM D3985.
Companies in this article