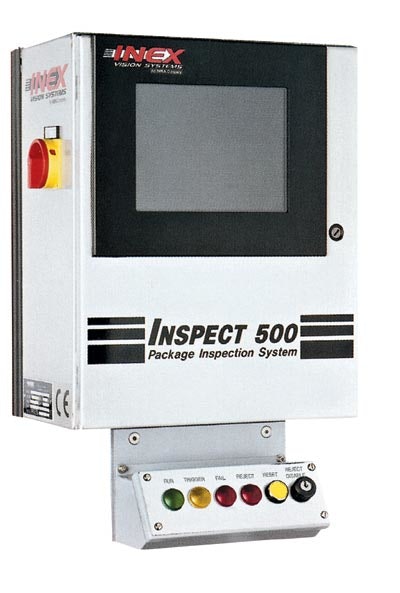 The InSpect vision system from Inex Vision Systems, equipped with the In-Sight smart camera vision system from Cognex, can perform inspection of label integrity, closure integrity, fill level in translucent products, and more. Thanks to the seamless integration of both companies' products into one machine vision system, customers enjoy reduced costs, quick turnaround, easy maintenance, and diligent customer service and support.
"Our goal was to create an accessible, low-cost system," says Mike Lawn, director of applications engineering for Inex. "I needed it to be on the market extremely quickly, which basically meant I couldn't do it all in-house. I needed a partner."
Cognex then became an integral member of the InSpect team. Its smart cameras help detect empty containers, fill levels, case and pallet defects, print quality, and other product/package defects. Lawn is pleased with the results.
"We went around and looked at all the vendors and came to the conclusion that Cognex was the best suited to our business model," he says. "It is a very organized company, it's been around a long time, and it fits our needs as far as a co-provider is concerned. We knew on the technical side that it would be reliable; its software has a good history and a good development program behind it."
Capable of inspecting up to 1겨 products/min, the InSpect system is installed over the conveyor in a packaging line. As the product passes under the unit, the packaged product is inspected according to specifications set up by the operator. Although the Cognex unit performs the task of the "vision engine" that actually captures the image and performs much of the processing, Inex packages the whole system together, designing a new programming interface and creating a new system around the vision engine. Inex's easy-to-use operator interface offers full-image display, inspection statistics, and a programming tool. Lawn says it was designed with the operators in mind.
"We've done a lot of work with the operator interface," he says. "It was our goal to provide a piece of equipment that we know from our experience will be an industrial solution not only in the fiscal performance of the machine, but also in how the operators on-site will be able to use it. We want to produce machines that last, with an interface and associated technology designed with them
in mind."
Inex provides the entire machine vision solution without the involvement of an integrator, Lawn says. This ensures that customers receive extensive training and troubleshooting assistance, without involving a "middle man, adds Lawn."
Companies in this article