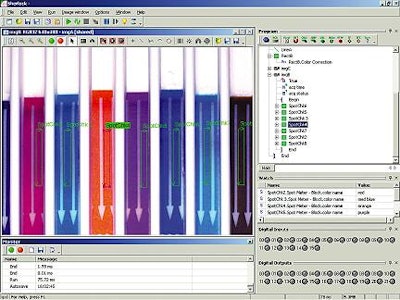 Easier to use and more capable than it's predecessor, Sherlock 7 offers users the tools and flexibility to address all of their automated inspection needs.
"Several factors were driving the development of Sherlock 7," says Steve Geraghty, Director of ipd. "Certainly, we wanted to make the product even more flexible and easier to prototype than Sherlock 6. However, the biggest driver was to add support for color image processing. To that end, we have developed a suite of color tools and methods to address a wide range of applications".
Many features have been built into Sherlock 7 to speed application development. The design environment provides Windows-like editing capabilities, such as drag-and-drop and copy-and-paste, together with extensive use of tool tips, status bars, context menus and performance monitors. Breakpoints and single-step debugging capabilities allow users to monitor and time every aspect of the inspection.
The Sherlock 7 toolset can be applied to a variety of application challenges. It includes a comprehensive suite of preprocessors, positioning tools, measuring tools, analysis tools, color tools, and identification tools. In addition, a JavaScript based scripting tool, complete with drag-and-drop editing, is available to develop custom formulas or inline and background operations within the application. For customers with unique or proprietary processing requirements, Sherlock 7 supports the inclusion of custom algorithms that can be directly plugged-in to the design environment.
The flexibility of Sherlock 7 becomes really evident when it comes time to select a hardware deployment platform. It is compatible with ipd's family of Vision Appliances, as well as its line of Compact Vision Systems, called NetSight II. Alternatively, if you are looking to use a standard PC or build your own custom processing platform, Sherlock 7 interfaces with several DALSA Digital Imaging frame grabbers or 3rd party IEEE 1394 compatible cameras. With Sherlock 7, the choice and power is entirely yours.
Companies in this article