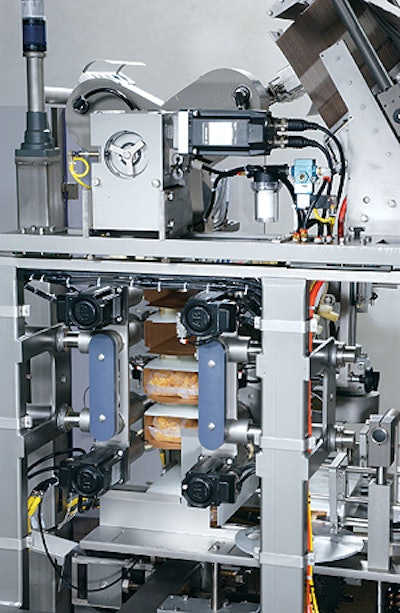 When a customer asked Triangle Package Machinery Co. (Chicago, IL) for a bag-in-box cartoner that could run 90 to 100 cartons/min, the machine builder knew it needed to create an entirely new machine. "They were looking for a cartoner that didn't exist in the marketplace that would match the output of current-generation continuous-motion form/fill/seal machinery," says Charles Muskat, Triangle's cartoner group sales manager.
Normally, the application would be solved with a large continuous-motion cartoner. However, those machines, which Muskat says operate at 150 to 250 cartons/min, were overkill for this application in terms of price and floorspace. And traditional intermittent-motion cartoners top out at 50 to 60 cartons/min.
To fill this gap, Triangle created its ProLine FC cartoner, which has a completely different way of advancing cartons and loading bags into the cartons. "We've broken through the traditional speed barrier with some unique methods of carton advancement and bag loading," says Muskat. The new design allows the machine to reach the desired 90-cartons/min target while keeping to a compact 5'x10' footprint. This new design was made possible in large part by digital servo motion control.
The new ProLine FC has no mechanical drive train. Instead, six Allen-Bradley servo drives and motors, from Rockwell Automation (Milwaukee, WI), are electronically synchronized via a SERCOS digital motion network in the machine.
"It translates into a smaller and simpler mechanical assembly because you don't have a bunch of drive shafts and gearboxes," says Steve Bergholt, Triangle's chief engineer. "There is no main drive shaft in this machine." The SERCOS network "makes wiring simple and troubleshooting easier," Bergholt adds. Such a machine design, built ground up around servos, is increasingly being referred to as third-generation servo-based packaging machinery.
The machine is controlled by an Allen-Bradley ControlLogix™ integrated controller that handles both machine logic and motion control functions. That eliminates the need to buy, install, program, and maintain a separate motion controller inside the machine.
The machine also uses a DeviceNet fieldbus that allows the controller to communicate to other devices on the machine, such as nonservo AC drives that are also from Rockwell. "The fieldbus allows us to gather information from the drive to give us more accurate control," says Bergholt. "It also simplifies wiring and adds diagnostics capability to the machine."
Ethernet comes standard on the new machine, allowing it to interface to a variety of customer networks. The new control platform also opens the door to future capabilities. "It's relatively easy to control all three machines in a line [scale, bagger, and cartoner] through one operator interface," says Bergholt. "This is where our use of ControlLogix and Ethernet is taking us." —DN/ES
Companies in this article