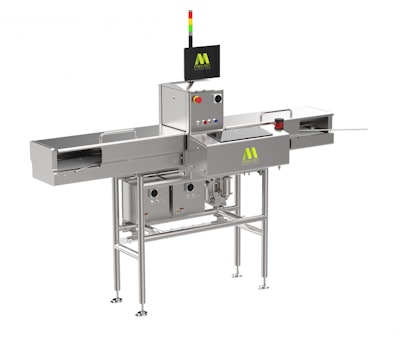 The system is suitable for products that might otherwise have difficulties with conventional X-ray systems with lead curtains, e.g. food products packaged in cups such as noodles, yoghurts, and ready-to-eat meals.
The lack of lead curtains ensures that the products flow smoothly through the system without tipping over or otherwise disturbing the production.
In MEKITM C we have also paid attention to product transfers, guides, and rejection to make them the finest. Non-conforming products will be rejected with an air blast, which blows the product into the integrated rejection box, which is designed to keep the products upright and intact.
MEKITM C is also equipped with integrated product rejection and reject confirmation, sensors, as well as automatic system reporting. All in one complete package to ensure that the food producers get the best value from their Critical Control Point.
Companies in this article