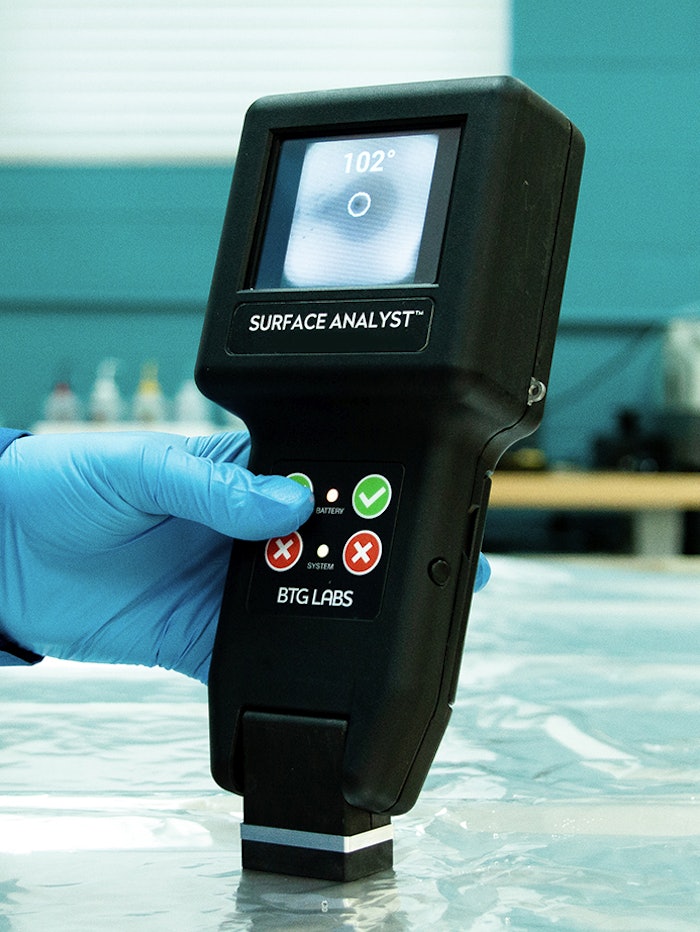 It can quickly make reliable, objective inspections across an entire roll of film as a replacement for destructive dyne solutions. These measurements can be made in-plant to verify the quality of incoming material from suppliers, following film surface treatment, or onsite following customer complaints about adhesion problems. The results are immediately available as an objective number, as opposed to time-consuming and subjectively interpreted dyne solution readings.
Developed and manufactured by BTG Labs, manufacturer of the popular Surface Analyst handheld unit and the Surface Analyst XA automated inspection system, the SA 2001 is a fast, simple, accurate and nondestructive entry-level inspection instrument for manufacturers and users of flexible film for whom critical film surface requirements mean the difference between success and failure.
Primarily designed as a handheld system, the SA 2001 is also available in a package with an inspection station for film surface analysis testing. This includes a fixture into which the user slides a piece of film, using the SA 2001 unit in a fixed position to inspect the surface, speeding production. The slim, compact design of the SA 2001 case enables the device to make measurements in any direction and on any type substrate.
The SA 2001 is powered by Archer, BTG Labs' software that streamlines the inspections to ensure reliability and consistency in film surface state. This further distinguishes the SA 2001 inspection process from dyne inks, which are chemically destructive to the materials they inspect, create scrap, and are not reliably repeatable. However, the SA 2001 features a Dyne Mode, in which it delivers inspection results in dynes/cm, enabling users to receive and work with dyne results without the need to use the ink process.
BTG Labs is a Material Science-based technology company focused on understanding, quantifying, and controlling surface critical processes in manufacturing. Surface Analyst systems are widely used in the flexible packaging, aerospace, automotive, electronic, medical device, consumer product industries and in a wide range of manufacturing and assembly operations.
Companies in this article