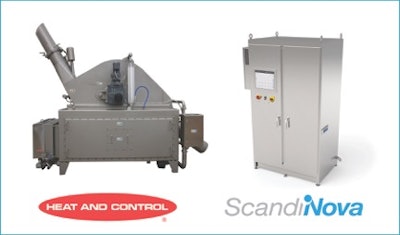 Heat and Control Inc., a manufacturer and supplier of food processing and packing systems, and ScandiNova AB, a supplier of pulsed power systems, have partnered to provide a new solution to the food industry. The partnership will combine Heat and Control's expertise in design of food production equipment systems and automation with ScandiNova's technology and Pulsed Electric Field (PEF) solution. Together, Heat and Control and ScandiNova are co-innovating with an electroporation solution for the food industry that will bring a new approach to product quality, line efficiency, and energy savings.
Initially targeting the consumer potato products sector, namely savory snack food, French fries and potato products, Heat and Control releases the patented E-FLO™ electroporation system, which features the ScandiNova PEF solution. This system has been designed to address the challenges food manufacturers face such as energy consumption, product quality, or minimizing the formation of unfavorable product attributes such as acrylamide.
"We are pleased to form this partnership with ScandiNova and leverage their knowledge of PEF technology to help our customers meet their production goals," says Tony Caridis, President of Heat and Control Inc. "We view their PEF solution to be by far the most advanced technology available, and as we enter a new era of food production innovation, we look forward to developing new ways to improve overall product quality and line efficiency."
"PEF is a strategic growth area for ScandiNova and Heat and Control will be the perfect partner with its strong global market presence, game changing mind set and leading technology," says Fredrik Mella, President of ScandiNova AB. "We look forward to support the sales of the E-FLO syste, and together, lead the transition from traditional thermal processing to PEF processing in the food industry."
The E-FLO electroporation system, featuring ScandiNova's PEF technology, joins Heat and Control's catalog of potato and snack processing equipment.
Companies in this article