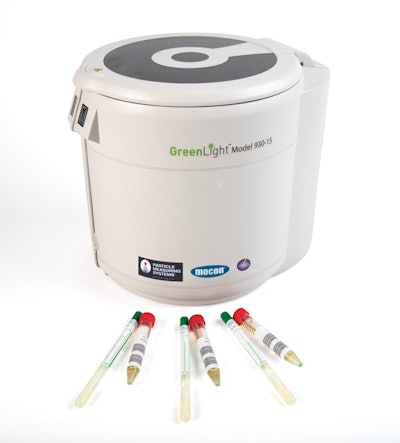 MOCON's GreenLight system has a proven track record in reliability, sensitivity, and speed across applications in many industries. It requires a fraction of the time needed by traditional plate counting methods to achieve results.
Cleanroom operators will now be able to detect the presence of extremely low levels of microbial cells on surfaces much faster than traditional solutions. The capability is a result of a global marketing agreement between MOCON Inc. and Particle Measuring Systems. The agreement gives Particle Measuring Systems exclusive rights to market GreenLight technology to pharmaceutical companies worldwide.
To improve cleanroom testing, Particle Measuring Systems has developed the SurCapt Microbial Surface Detection Kit using GreenLight technology. This provides an all-inclusive, ready-to-use solution which simplifies and accelerates environmental surface testing for biological contamination. The design of the SurCapt kit reduces the likelihood of sample cross-contamination and mishandling by the operator.
Giovanni Scialo, VP, Life Sciences, Particle Measuring Systems, comments: "By leveraging GreenLight technology with our SurCapt Microbial Detection Kit, we are providing pharmaceutical companies the objective evidence they are currently missing in a time frame that enables more effective decision-making. This breakthrough enhances quality assurance throughout the value chain."
Companies in this article