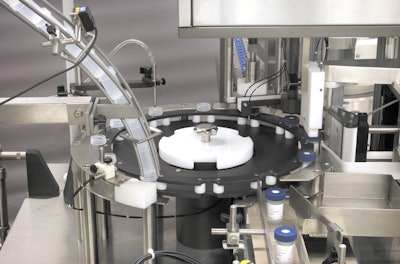 The responsive, easy to navigate touchscreen from B&R Industrial Automation controls all servo motion and machine functionality. Its stainless steel HMI enclosure is IP65 rated.
Chase-Logeman investigated the B&R technology after finding it in use by many of the most respected suppliers of pharmaceutical packaging and processing equipment. The easy to use and proven B&R control system integrates PLC, motion control and HMI into a single software application, running on a single processor and stored on a single removable Compact Flash disk.
By eliminating the communications software and interfaces required by legacy control platforms, Chase-Logeman can offer an inherently simpler and more responsive system. The Chase-Logeman system HMI is also CFR 21 Part 11 Electronic Signature compliant.
Designed for cGMP pharmaceutical, diagnostic and healthcare applications, the FCC Series can process a variety of glass and plastic containers, screw caps and brush tip caps. It can perform filling and rubber stopper insertion for serum vials as well. In addition, Chase-Logeman produces a full line of compact monoblock equipment for a variety of applications such as filling, stoppering, crimp sealing, screw capping, plugging and automatic tray loading, as well as built-in integrated IPC checkweighing.
All machine functions – filling, capping and optional integrated labeling – are performed with the container firmly under the control of the star wheel. An optional bulk bottle unscrambler is also available.
The FCC Series is designed to fill and close up to 60 containers per minute with a fill range from microliters to 125 milliliters and larger. Features include cGMP compliant stainless steel enclosure and stainless frame with choice of filling systems.
Filling and capping operations can be selectively deactivated when not needed. The system ensures no container/no fill, no container/no cap and no cap/no torque operation. All sensors are continuously monitored. When no containers are processed for a predetermined time period, an automatic shutdown and operator alert are triggered.
Sequential filling reduces setup time and improves accuracy. Patented ChaseLock® tool-free quick bottle changeover takes just minutes. A comprehensive documentation package is standard with available IQ/OQ protocols.
For more information, visit www.chaselogeman.com.