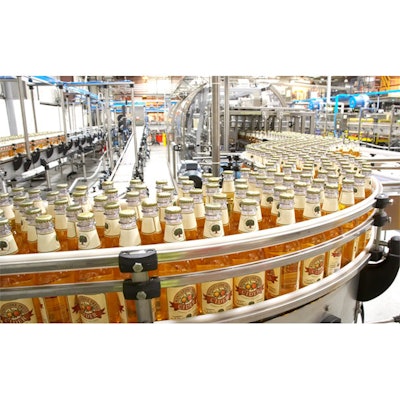 The supplier is Dry Lube Ltd. Included is Aston Manor's new £3million bottling line which fills over 24,000 bottles per hour for some of the world's leading brewers including Carlsberg, Coors, Heineken and ABinbev as well as Aston manor's own brands such as Frosty Jack's cider.
Aston Manor's decision to implement dry lubrication on its bottling lines affords the company significant environmental benefits including water and effluent savings of up to 2.2 million litres of water a year and reduced power consumption saving approximately two tonnes of CO2 a year. As well as these eco-benefits, the operational improvements gained from using Dry Lube includes decreased risk of slips, trips and falls due to slippery floors and improvement to the aesthetics of the working environment.
Paul Clifford, Engineering Director, Aston Manor, adds, "We inherited the dry lubrication system when we purchased Devon Cider business and I was immediately impressed with the cleanliness of the conveyors and performance of the pressureless combiners at speed. We decided to adopt the system across our complete bottling hall at Aston Manor and are now reaping the benefits. While the system works more than satisfactorily as a conveyor lubricant, our staff is most pleased with the dry floors and general improvement to the working environment that it has given. I am very happy to see that our contract bottling line, which runs a large variety of glass and PET, needs no lubricant adjustment at changeover."
Historically, bottling operating procedures rely on the use of a detergent-based lubricant, the toxicity of which is exacerbated by the use of biocides. This method of operation requires large volumes of water and detergent, which is not recycled or reused. A significant step change from traditional lubrication, the Dry Lube System takes minor quantities of food-grade-approved water, silicon, and PTFE-free oil lubricant and pumps it onto the conveyor through a distribution manifold. This not only transforms the workplace and works towards a better and cleaner environment, it also helps companies reduce production costs and increase productivity levels.