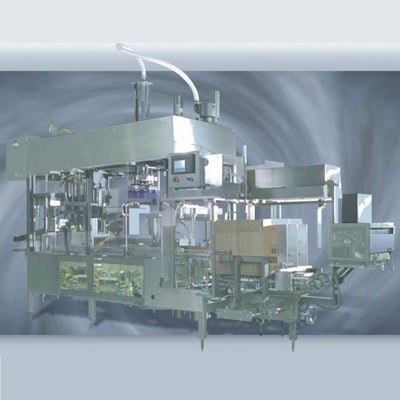 Goodman Packaging Equipment introduces first machinery equipped with ELAU's new servo modules at PACK EXPO
Goodman Packaging Equipment (PACK EXPO Booth S-1241) is the world's first machine builder to utilize the new PacDrive iSH Series Intelligent Servo Module from ELAU (Booth N-3563).
Goodman has applied this all-new configuration of proven servo technology to its fully automatic 'Three-in-One' Case and Tray Former/Packer/Sealer. The system erects an RSC case, top loads up to 100 flexible or rigid packages per minute, closes and applies a hot melt adhesive to seal the case.
The 'Three-in-One' is so-called because it integrates all these proven Goodman packaging modules within a unified frame to provide smooth, synchronized packaging in minimal floor space.
After evaluating ELAU, its PacDrive automation system and customer response to the technology, Goodman management moved forward with plans to apply the very latest PacDrive technology to a 'Three-in-One' system at PACK EXPO. In fact, while ELAU uses PACK EXPO as the worldwide introduction for the PacDrive iSH Series, Goodman becomes the first builder in the world to engineer the modular servos into a commercially available machine.
How the servo modules work
The self-contained servo modules simplify mounting, reduce component counts and cabling, and reduce electrical cabinet size and footprint compared to conventional servo motors and drives.
Each PacDrive iSH Series servo receives all power and communications from its own hybrid cable coming from a nearby distribution module. There are no separate encoder cables, and each module is fully synchronized through a digital motion bus running in the single cable.
A central, shared power supply feeds the remotely located distribution modules. Instead of a cabinet filled with servo drives and cable connections, only a single PacDrive automation controller and power supply are located in the electrical cabinet. The servos and their distribution modules are IP 65 rated and installed around the machine, at the point of use.
A common vision of modularity
This modular automation strategy complements Goodman's modular machine design strategy of tightly synchronizing the required functional modules within a unified frame. It's also consistent with ELAU's PacDrive SCL purpose-built servo modules that have radically changed how rotary beverage capping and labeling machinery is automated over the past three years.
Equally important is the modular approach to software development that Goodman and ELAU have employed to automate both this machine and the 'All-in-One' Case Erector/Packer/Sealer, also coming to PACK EXPO.
Much has been written in recent years of the performance, reusability and maintainability of modular software. Leveraging hardware and software modularity, Goodman is maximizing the flexibility of its own machine modularity.
Inside the robotic 'Three-in-One'
In operation, individual packages are cross transferred onto the servo driven layer forming conveyor that indexes each time a package is received. When the required pack pattern is indexed into the load station, the servo-driven robotic head picks and places the packages into the awaiting case.
Simultaneously, cases are erected from a knocked-down case and bottom sealed in the first two stations of the machine. Empty cases are transported through the packer by a walking beam transfer system. In the final station of the machine, each full case is closed and top sealed with hot melt adhesive.
Depending on pack pattern, the 'Three-in-One' can operate at speeds up to 100 ppm, while the pick-and-place robot runs at up to 30 strokes per minute to pack up to 12 cases per minute. Maximum package size is 15" L x 12" W, and maximum case size is 20" L x 13" W x 12" H.
Changeover time is under 10 minutes. The system can be readily adapted to the specific case requirements of retail, club or convenience store customers.
Inside Goodman's 'All-in-One'
The 'All-in-One' reliably forms wraparound style cases or trays, packs flexible or rigid packages at up to 150 ppm and seals the cases within its unified frame.
Like the 'Three-in-One,' this machine also uses a servo-driven robotic pick-and-place head. Individual packages are conveyed onto the two-axis servo-driven layer forming conveyor, which collates the required pack pattern within the load station of the machine. When the specified pattern of packages is collated within the load station, the robotic head picks and places the packages into two awaiting cases.
Cases are simultaneously formed in the first module of the All-in-One, then transported by split belt servo driven lug case conveyor to the load stations. In the final station, each filled case is closed and top sealed.
The 'All-in-One' is equipped with a PacDrive system utilizing ELAU's recently introduced SH Series salient pole motor design. This same cool running servo motor technology, combined with several other innovations, enables the iSH module to effectively dissipate the heat generated by both motor and drive electronics.
About Goodman Packaging Equipment
Since 1972, Goodman Packaging has been designing, manufacturing, integrating, and servicing pick and place equipment, as well as multiple peripheral components. Goodman Packaging's complete line of packing equipment automates the placement of all sizes of flexible or rigid packages into cases, trays or cartons in any pack pattern. Over the past 34 years, Goodman Packaging has offered complete case packing systems for top loading products either horizontally or vertically into the intermediate or final shippers. Each Goodman Packaging system is engineered to provide standard packaging equipment for the ultimate in flexibility. Furthermore, Goodman Packaging's research and development team will design custom equipment to meet their customers' specialized automation needs.
About ELAU
ELAU, a company of Schneider Electric, equips over $1 billion worth of the world's best machines annually, with over 30,000 PacDrive systems already deployed in packaging machinery worldwide. PacDrive is the first truly integrated automation architecture, capable of performing the functions of PLC, motion control, robotics, temperature control, PLS, MES data interface and more in a single, standards-based software environment.
For more information, visit
www.elau.com
,
www.goodmanpkg.com
or email
info@elau.com
.
Companies in this article