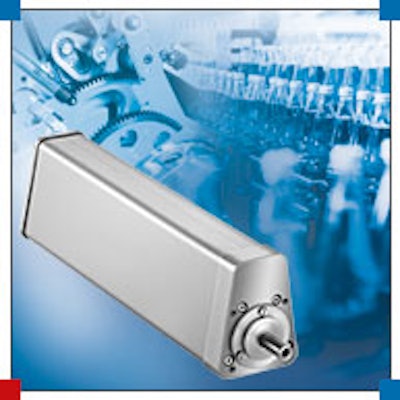 New at PACK EXPO 2006, Booth N-3563, ELAU has developed a variant of the proven PacDrive™ SCL-055 integral servo motor/drive for use in sterile environments.  The new PacDrive Aseptic SCL-055 features an aseptic, acid and bleach-resistant stainless steel housing with an easy-to-clean, smooth surface designed to prevent contaminant, bacteria and germ formation.
The IP 67 rated PacDrive Aseptic SCL-055 is an intelligent servo module with self-contained motor, drive and encoder feedback sections.  It is ideal for sensitive production areas in the manufacture, filling, capping and labeling of beverages, food, chemical, cosmetic and pharmaceutical products.  Its V2A stainless steel cladding can be cleaned thoroughly and is resistant to commonly used chemicals and cleansers.  Its reinforced bearing is designed to handle high lateral loads for direct connection to belt drives.
Like the popular standard PacDrive SCL-055, the new stainless steel variant provides the inherent ability to implement servo capabilities on rotating carousels.  By integrating drive electronics and motor with simplified cabling and slip ring configurations, ELAU has made servos on rotary machines a practical, cost effective and space-efficient reality for the first time.
The servo module provides 0.85 Nm holding torque, peak torque of 4 Nm and nominal rotational speed of 1,500 rpm.
ELAU equips over $1 billion worth of the world's best machines annually, with over 30,000 PacDrive systems already deployed in packaging machinery worldwide.  PacDrive is the first truly integrated automation architecture, capable of performing the functions of PLC, motion control, robotics, temperature control, PLS, MES data interface and more in a single, standards-based software environment.   
For more information, visit
www.elau.com
or email
info@elau.com
.
Companies in this article