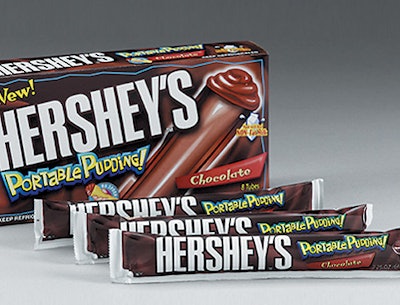 Two packaged products, both foods, were recognized by the FPA with Highest Achievement awards. One of those is Hershey-brand tube- or stick-packs of puddings from ConAgra, Irvine, CA. The kid-focused refrigerated puddings ride the wave of portable, utensil-free snack foods that replace cups and lids. The packs earned a Highest Achievement award in addition to an Environmental Achievement silver award and a Technical Innovation gold award.
The film structure from Curwood (www.bemis.com) is a 75-ga OPP/adhesive/48-ga metallized PET/adhesive/2-mil sealant. The 2-mil sealant includes an ethylene vinyl alcohol barrier layer. The outer layer is reverse-printed flexo in eight colors.
The 2.25-oz packs have a tear notch on the end for easy opening. The 8¾"x1½" tube packs are aseptically filled eight-up at a rate of 400 packs/min on Stick Pack Model 2030 form/fill/seal equipment from Hassia USA (www.hassiausa.com) at a Swiss Miss plant in Menomonee, WI.
The pudding packs are claimed to be the first portion-controlled aseptic stick pack on the market. Although capable of being merchandised as shelf stable, these products are sold from refrigerated cases. They are sold in eight-count cartons at retail and have a one-year shelf life.
"Conagra Foods is thrilled with the performance and popularity of Hershey's Portable Pudding," says Conagra's Charlene Lee, brand manager of the pudding/cocoa business unit. "Since its launch in May, it's been the fastest turning new item in the refrigerated desserts section."
The other Highest Achievement award goes to a technology from Cryovac Div. of Sealed Air (www.cryovac.com). The technology has a new name. Formerly known as Darfresh, it is now known as SimpleStepsTM. It was first commercialized by Smithfield Packing Co., Smithfield, VA (see packworld.com/go/ c071) for a line of 17-oz entrees. The trayed entrees are thermally processed, chilled, and overwrapped in a colorfully printed shrink film.
The more descriptive name refers to the fact that the heat-and-serve package permits consumers to complete product perparation in just three simple steps:
1. Remove the tray from its outer packaging.
2. Heat for the designated time (usually about four minutes) and let cool.
3. Pull the easy-open tab to remove the film and serve.
SimpleSteps eliminates the need to puncture ventilation holes in the film before heating. Instead, the vacuum-skin film "tents up" as the product reheats, then self-vents and "relaxes" over the food. The "stay cool" handles reduce the risk of burns or spills as the tray is removed from the microwave.
As PW reported earlier, the breakthrough centers on a polypropylene-based tray that's surface-laminated with an ethylene vinyl alcohol self-venting sealant. After filling, the tray is sealed with a 6-mil coextruded vacuum skin packaging (VSP) film, also with EVOH barrier.
Smithfield's entrees are VSP-packed three-up at rates to 35 trays/min using new Multivac (Kansas City, MO) Model T570CD equipment installed at Smithfield's Valley Dale Foods plant in Salem, VA.
See the story that goes with this sidebar: Technical Innovation shines
Companies in this article