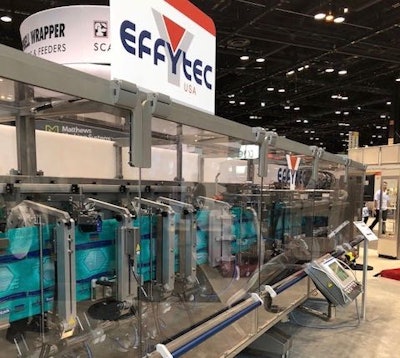 The Effytec HB-26 horizontal pouch machine is on display at PACK EXPO International this week, where the company is demonstrating technology advancements that is resulting in a much faster machine. This new generation of intermittent motion pouch machines, designed for the dynamic horizontal form-fill-seal pouch market, is configured to handle a wide variety of package formats including three- and four-side seal, stand-up pouches with shapes, zippers, fitments and hanger holes.
The latest new HB-26 machine is built to be fast. Speed capability is based on package size, but "it can handle up to 80 pouches per minute and changeover can be done in under 15 minutes," says Roger Stainton, president of Effytec USA. "Typically, machine changeover is about 4 hours."
The features include parallel motion side sealing, remote tele-modem assistance, low inertial dual cam roller and servo driven film pull rolls. The machine uses control technology from Rockwell Automation, including PLCs andservo drives and motors which are responsible for the speed enhancements. And the Rockwell touchscreen HMI has the ability to save recipes in the machine to accelerate set up.
The HB-26 is ideal for applications in food & beverage, cosmetics, pharmaceuticals, nutraceuticals, with support for granulated products, liquids and sauces, powers and tablets.
Companies in this article