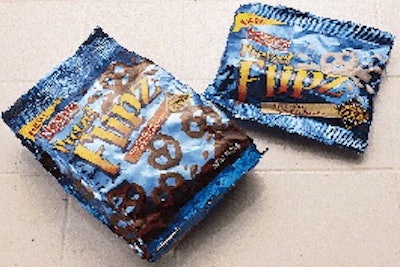 According to Rovema, the 7.5-oz family-size bag of Flipz (left), which retails for $1.79 to $2.39, represents the first retail product to be sold in the Stabilo Bag, which is recognizable by four vertical heat-sealed edges that form two side gussets.
"The sealed edges add rigidity to the stand-up bag," says Glenn May, manager of packaging at the Nestlé division. Bag edges are sealed on Rovema's Stabilo-Seal System®, which is used with Rovema vertical form/fill/seal machines. "We had used Rovema equipment before so it was natural for us to use the Stabilo bag," says May.
From the outside in, the bag structure includes 120-ga oriented polypropylene reverse-printed by gravure in seven colors that's adhesive-laminated to 75-ga OPP. Several suppliers are believed to provide these films. Flipz nutrition facts are printed in one of the two side gusset areas. A lift-and-lock tab on the back panel allows consumers to reseal the bag.
The vf/f/s machines can be quickly changed over to package Flipz in pillow-style packs for 2-oz individual bags (right), a 3-oz concession bag or a 1.25-oz vending bag. Marketed in the candy aisle, all Flipz sizes are sold in a milk chocolate version. The 7.5- and 2-oz bags also contain a white fudge variety. Through a co-branding arrangement, Nestlé uses Frito Lay's Rold Gold®-brand pretzels for Flipz. According to Tricia Bowles, manager of public relations for the division, the product has been well received so far.