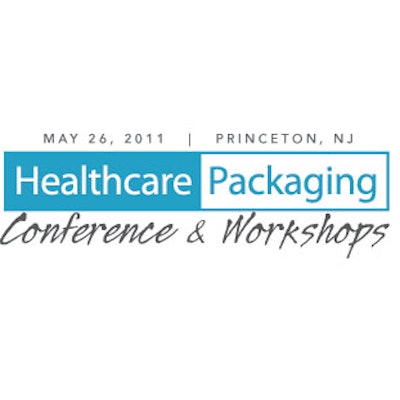 Here's a look at the program:
• "Surviving and Thriving in a Volatile Marketplace: Strategies for Drug Companies," by Mike Wokasch, author of "Pharmaplasia," and pharmaceutical industry veteran. He will address what today's pharmaceutical manufacturers must do to weather the uncertainties in the healthcare marketplace.
• "New Developments in Combination Products and Working with the FDA," by Michael Drues, Ph. D., president, Vascular Sciences, consultant, adjunct professor, and popular industry speaker. He will cover the latest developments in combination products and the FDA.
• "Best Practices for Package Stability and Validation of Combination Product Packaging," by Laure L. Larkin, packaging validation supervisor, Synthes USA, an international medical device company. She will focus on package stability aspects and validation of combination products.
• Jan Gates, staff packaging engineer, Abbott Vascular, and Karen K. Greene, CPP, vice president, sales and technology, Life Packaging Technology, will co-present "Medical Device and Pharmaceutical Packaging Insights from the Brand Owner Perspective." They will discuss medical device packaging, sterile packaging, bottle and closure design, and secondary and tertiary packaging design and qualifications.
• James Evans of the Novartis-MIT Center for Continuous Manufacturing, will present "Packaging's Role in Transforming Pharmaceutical Production with Continuous Manufacturing." He will describe the batch-based manufacturing system currently employed by the pharmaceutical industry, and discuss the Novartis-MIT Center for Continuous Manufacturing, a 10-year research collaboration combining the industrial expertise of Novartis with MIT's scientific and technological leadership; the Center develops new technologies to replace industry's conventional batch-based system with a continuous manufacturing process.
• "Making Your Brand Stand Out In a Highly Competitive Marketplace," is the topic of a presentation to be given by Russ Napolitano, vice president, strategic development, Wallace Church, Inc. He will take attendees through the process of moving Pfizer and Wyeth brands from Rx to OTC. These case histories will demonstrate how to create a visual positioning strategy that articulates a clear, compelling, and relevant image for core loyalists, early adopters, and potential enthusiasts.
• Healthcare Packaging Publisher Jim Chrzan will provide "Compliance and Adherence: A Real Life Case History," in which he talks candidly about his own life with 14-year-old son Casey, who has Down Syndrome and Autism, and how a compliance-prompting package has changed the entire family.
• "The Future of Pharmaceutical Packaging," will be presented by Edward Bauer, a Packaging Hall of Fame award-recipient, as well as a former employee of GNC and multiple end-user firms. He will discuss a variety of issues of importance to the pharmaceutical industry.
Throughout the day will be presentations by Euromonitor, a global market research firm. Their scheduled subjects include: "Statistics and Trends in Today's Pharmaceutical and Healthcare Industries," "[Healthcare]-Related Trends and Intelligence," and "Consumer Behavior Trends and Insights."
The afternoon will feature Breakout Workshops that will include the following:
• "Three Guiding Principles to Ensure Your Blister Package Passes Stability," Zuzana Sabova-Kepic, manager, Barrier Packaging Analytic Lab and lead technical Specialist, Honeywell.
• "Moisture, Oxygen & Shelf Life: Keys to Packaging Performance," Valere Logel, product development manager, Süd-Chemie.
• "No Container Left Behind: How Early Tracking Ensures a Higher Standard of Quality Control," Glenn Siegele, president, Omega Design Corp.
• "A Practical Approach to Improve Quality, Efficiency and Flexibility in a Continuous Manufacturing Solution," Delta Industrial Services.