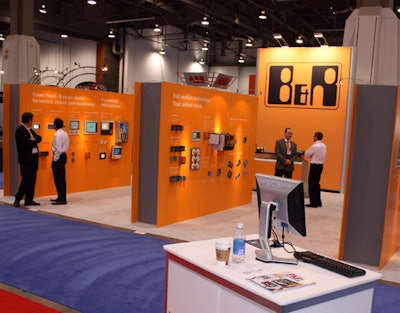 To meet the specific requirements of the global packaging community,
B&R Industrial Automation
has formed a global Packaging Solutions team, supporting both packagers and packaging machine builders in the world's centers of consumer packaging operations and machine design. Members of this packaging team will be on hand for consultation at PACK EXPO.
Freedom of choice to save and become more productive
The B&R portfolio of solutions offers the industry unprecedented freedom of choice. B&R can increase machinery cost/performance incrementally, by augmenting current PLC and motion platforms with advanced I/O, HMI and/or safety technology. B&R also offers a complete solution that can streamline control hardware to a single touchscreen panel, and software to a single program. The use of mainstream, high volume processor technology delivers inherently high performance at low cost compared to legacy PLC architectures.
New products
B&R product introductions include new
high power servos
and micro servo/stepper drives providing a single solution in the same software environment ranging from the simplest machines to the most sophisticated integrated converting or food/beverage processing/packaging lines. This unprecedented scalability offers significant advantage to multinational CPGs that must currently support multiple regional platforms.
Other introductions will include economical and powerful Intel®
Atom® based touch panels
, the
'Change Your View'
lineup of touchscreen HMI ready to run Factory Talk® View software for Rockwell users, and optional access control that reads an employee's smart ID tag.
Automation goes mainstream: iPhones and animations
Demos will show how easy it can be to communicate between a control system and iPhone or other mobile device, and to integrate instructional animations and video along with all control functions onto B&R industrial PCs equipped with both a hard real-time operating system and Windows™ XPe.
Safety advances
With the introduction of
openSAFETY
, B&R is supporting a universal open protocol for safety networks that could prevent a recurrence of 'fieldbus wars' as the need to comply with new safety regulations causes each industrial network organization to propose its own safety protocol that runs only on its buses. openSAFETY has already been run on EtherNet/IP, SERCOS III and Modbus TCP in addition to Powerlink.
openSAFETY complements B&R's comprehensive lineup of safety controllers, safe I/O -- and now safe motion -- over the same Ethernet based Powerlink network as the rest of the machine control system.
Many machine builders turning to B&R
A growing range of packaging machinery OEMs at PACK EXPO will offer B&R-enabled machinery. Exhibitors offering B&R component and/or complete systems solutions include machine builders from the United States, Canada, Europe and Asia and represent all major categories of packaging processes. New B&R customers for 2010 include accumulating/conveying, case packing, unscrambling, rigid container filling/closing, form/fill/seal, labeling, palletizing, shrink wrapping applications and systems integration.
Companies in this article