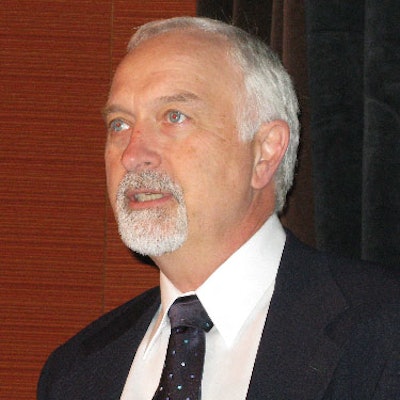 A day-and-a-half long conversation about finding ways to better connect the packaging lines on the plant floor with the business systems upstairs--that's a pretty fair description of yesterday's Packaging Automation Forum, which is jointly produced by Summit Publishing's Packaging World and Automation World magazines.
Leading off the day was a tag team presentation by two engineering managers from General Mills: Mike Viland (shown here) of the Packaging Engineering Department and Steve Bennek of the Controls and Information Systems Group. They made it abundantly clear that, in a business climate where 3% annual growth in sales is considered good, packaging line efficiency is more important than ever, and that efficiency can only be achieved if good data and clear visibility into the packaging lines are available. Gleanings from the presentation:
• General Mills has a home-grown Enterprise Manufacturing Intelligence (EMI) system as opposed to an off-the-shelf MES (Manufacturing Execution System). In addition to organizing data around one single repository, part of its value is that it gives people in the organization a path to where needed data resides. But how individual plants interface with and implement the EMI may vary. The idea is to have an EMI system that is centrally organized but implemented on a decentralized basis.
• Simulation of machines and lines is more important than ever as both have gotten ever more complex.
• General Mills generates 50 million data points daily, but Viland and Bennek emphasize how important it is to stay focused on actionable data. Having lots of data is not as important as having actionable data.
• Note to packaging machinery OEMs: Too often General Mills' engineers have to dig into the PLC code on a packaging machine to understand what is wrong. This wastes time.
• When OEMs are designing their machines, they should pay close attention to sensors. If, for example, the length of a cereal bar may deviate by as much as a quarter of an inch when it reaches a flow wrapper, that wrapper should have sensors that can detect the deviations and permit the wrapper to accommodate them without getting jammed.
• Among the data Viland and Bennek would like to see more of is the kind that can't be extracted from a PLC. Reason codes are high on their list. For example, why did an operator go into a control panel?
• Standards bring clarity, they make it easier to support a machine over time, and they make it easier to resolve machine problems more quickly. Such things are even more important if there are any personnel changes within a company's controls engineering group. General Mills has developed its own controls standards over the past decade or so, but now that PackML has been developed, said Viland and Bennek, they would be willing to embrace PackML if an OEM came to them with that request. "PackML is a great idea," said Bennek. "Getting OEMs up to speed and getting ourselves up to speed, that has been the challenge."
General Mills wasn't the only consumer packaged goods company at the Packaging Automation Forum to mention PackML favorably. PepsiCo's Jeff Russell and Mars' David Shaw also described PackML as something that would deliver meaningful benefits if it were more widely embraced. Also, among the comments that emerged in a Q&A session following the General Mills presentation was a reminder from John Kowal of B&R Automation that the PackML MES definition committee is seeking input and active participation. Kowal can be reached at john.kowal@br-automation.com.