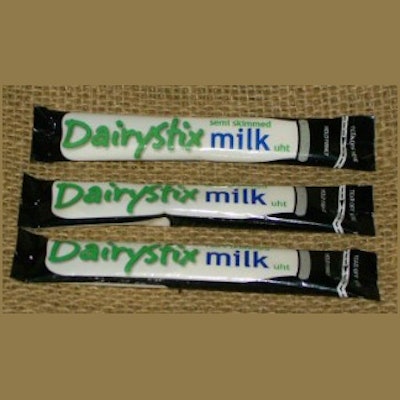 It's not just the massive investments made by Nestle in Anderson, IN; HP Hood in Sacramento, CA; and SunOpta in Modesto, CA. New twists on technology have also surfaced.
The so-called "dry" decontamination approach from Sidel is but one example. Using vaporized hydrogen peroxide to sterilize PET preforms instead of the more conventional use of hydrogen peroxide to sterilize blown bottles saves huge amounts of rinse water and minimizes the amount of hydrogen peroxide required. The cover story in the upcoming November issue of Packaging World describes how a dairy in France became one of the first to commercialize Sidel's Predis technology. Byrne Dairy in Syracuse, NY, is weeks away from shipping ESL milk in PET bottles produced on the Predis system.
Surfacing out of New Zealand is something called Xenos Aseptic Beverage Systems. Managing director Mike Rockell told Packaging World on October 15 that it works like this: "Our method of sterilization is based around dilute hydrogen peroxide and UV light. Individually they are not effective, but in combination they are extremely synergistic to give a rapid and effective kill. The principle has been around for some 30 years. It's been applied to cartons, but to the best of our knowledge has not been applied to bottles until now. We are using our technology commercially in our own factory, where we are copacking for our customers. We are also supplying an aseptic filling line into Brazil, which will be commissioned over the next three weeks."
Equally fascinating is electron beam curing, an approach to container sterilization that does away with chemicals altogether. This month the Farmright Group, a UK dairy, began deploying technology provided by Advanced Electron Beams to produce single-serve .44-oz pouches of milk and coffee creamer that have a shelf life of 180 days. Farmright group technical director Charles Wait says a modified Ropak pouching system is used to produce the Dairystix container. "We take a roll of film and feed it through the EB unit before it comes to the sterile zone of the filler," says Wait. Film is a critical component, adds Wait. "Operating on a continuous motion system at these speeds, we only have 220 milliseconds to seal the film. The sealant layer is crucial, as is the UV light barrier and the oxygen barrier." A coextruded structure with polyester and EVOH is used.
Dairystix in 200-count cases are sold to airlines and foodservice distributors. Case erecting and sealing equipment from OK International is used in the case packaging operation. The pouches also make their way to the retail channel through the Tesco supermarket chain, where cartons of 20 are being sold. A subcontractor handles this cartoning task.
Even cap sterilization is getting its fair share of attention. At Drinktec in Munich this past September, GEA Procomac featured its Sterilbeam system, which uses electron beam sterilization on both flat or sport caps. Says Procomac: "It uses simple electron emitters to produce electrons and focus into beams which are directed to cap surfaces. Very short treatment times (measurable in terms of milliseconds) are needed to achieve high kill rates for bacteria, moulds, and yeasts."
Many of the end-users and all of the suppliers mentioned above will be at the Aseptipak 2009 conference October 26-27 in Chicago.
Companies in this article