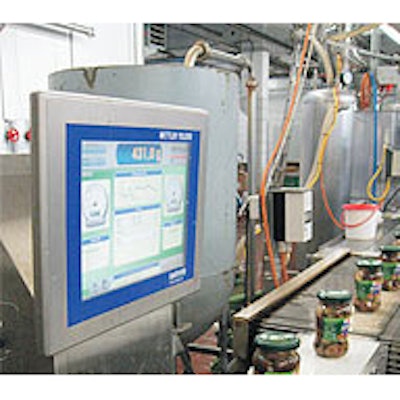 Soup ingredients, mushrooms, meat dumplings, and berries are key areas of production at Valenzi, a German maker of premium food products. "We produce in compliance with the IFS (International Food Standard) and place great emphasis on employing the latest technology and intelligent production machines," says Mathias Koeppen, Valenzi CEO. To perform the legally required weight checks, the company relies on the inline checkweighing technology of Mettler-Toledo Garvens.
Shiitake mushrooms, for example, are gathered by hand, washed, hand-sorted, and then filled into glass jars. The correct weight of the jars is then checked in the production line by an in-line XS3 checkweigher. With its touch screen display, the calibrated checkweigher is easy to use, and its flexible modular structure allows it to be integrated into existing production lines.
Valenzi uses the checkweigher to check up to four different products ranging from 120 to 900 g. The calibrated checkweigher inspects up to 140 jars/min and guarantees accuracy of up to 1 gram. Before the jars reach the XS3, they are aligned and fed securely to the checkweigher by two laterally adjustable side-grip belts. Jars that are too light or too heavy are gently rejected with the help of a product divider system that uses a Garvens line divider.
To read the complete article, go to http://us.mt.com/us/en/home/supportive_content .
Companies in this article