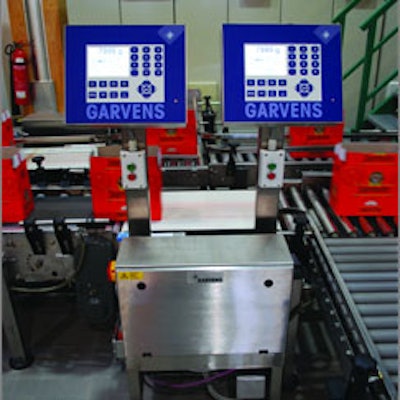 Mast-Jägermeister AG, the largest German producer of internationally distributed spirit specialties, always had produced and bottled its world-famous Jägermeister cordial at its headquarters plant in Wolfenbuttel, Germany. But when the company opened new German production sites in Kamenz and Witt Mar to accommodate rising product demand, an integral component of the new packaging lines included checkweighers from Mettler Toledo Garvens (www.mt.com).
At the modern Kamenz site in Saxony, started up in 1996, more than 20 million liters of Jägermeister are bottled per year. The Mettler Toledo Garvens XE3 checkweighing systems are used at the end of the lines where the weight of cartons (containing either 1-liter or 0.04-liter bottles) are verified. The checkweigh station detects and automatically rejects incomplete cartons and cartons containing underfilled or leaking bottles.
The XE3 systems offer cost-effective, state-of-the-art weighing technology that integrates easily into Jägermeister's existing packaging lines. They can weigh products up to 6000 g with accuracy of up to 1 g. Kamenz Plant Manager Jens Rieben says, "Quality assurance is an extremely important subject in the Jägermeister production. Due to our strong brand reputation, we are committed to making sure that our customers will always get the very best quality. The Mettler Toledo Garvens checkweighers are instrumental in supporting quality management and protecting the Jägermeister brand."
Companies in this article