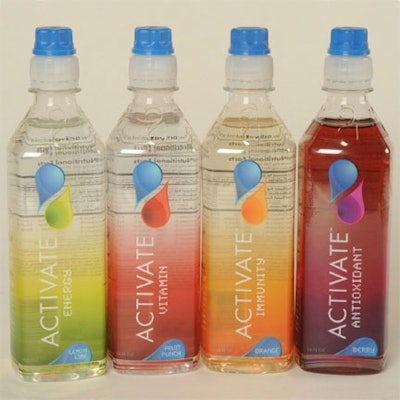 Awards were bestowed on a number of deserving packages during the National Assn. of Container Distributors (www.nacd.net) NACD 2009 Annual Convention in Las Vegas, on April 4, 2009. Judging, done in February, was based on packaging innovation, sustainability, graphics, decoration, shape, closure, texture, ease-of-use, consumer appeal, and technical merit in seven categories.
Awards presented include Creative Use of Stock Components, the Bernard M. Seid Best of Show, and the NACD People's Choice Award.
The package receiving the highest rating overall was awarded Best of Show. This award is named as a memorial to Bernard M. Seid, a valuable contributor to NACD and an innovator in the industry as well as a leader in the development of the NACD Package Awards program. The People's Choice Award was voted on by convention attendees. For more information about the NACD Package Awards program, contact Carole Schiller, NACD awards and events manager at cschiller@nacd.net.
Bernard M. Seid Best of Show
Activate Beverage Company - Activate
Distributor: Zuckerman-Honickman, Inc.
There is a growing market for enhanced waters, including vitamin enhancement. The problem is that vitamins lose some of their potency once they are in the water. Keeping the vitamins out of water until the time of consumption is ideal. The distributor worked with a closure molder to create an innovative cap for this package. The vitamins, in powder form, are contained in a sealed reservoir inside the cap. When ready for use, the consumer simply twists the blue closure top clockwise and this opens the reservoir, allowing the vitamins to dispense into the water. The bottle is then shaken, producing a potent, vitamin-enhanced drink. (See packworld.com/article-26673 to read more.)
NACD People's Choice Award
Bath and Body Works – Fall Halloween Promotions
Distributor: O. Berk Company

Each year, Bath & Body Works produces figural bottles for various holidays to stimulate sales. Usually it is a simple pumpkin, ghost, bat, or other single-faced bottle. In 2008, Bath & Body Works challenged its packaging supplier to produce a multifaced bottle for hand soap. It succeeded in blowing a high-definition bottle with the illusion of three separate pumpkins, each enhanced by pad printing to highlight facial features. A green lotion pump topped the bottle. The promotion was a major success in terms of its striking appearance as well as sales.
This package also won silver in the Novelty category.
Creative Use of Stock Components
Dr. Christine Rogers En Pointe Toners - Whipsmart
Distributor: Kaufman Container Company
After surviving her battle with breast cancer, the creator of En Pointe skin care decided that she wanted to design a product that would make other breast cancer fighters and survivors feel good again. Because of her story, the owner knew she wanted to have pink bottles to reflect the familiar color of the pink ribbon, synonymous with breast cancer awareness.
The silver Chinese symbol on the front of the bottle was used to reflect life and the idea of survival. With a rich story behind the packaging, En Pointe also needed to offer an upscale and luxurious feel, since the product inside is a "feel good" skin care line. By selecting attractive packaging, women would be proud to display this product on their bathroom counters. Though the initial quantities did not warrant a custom design, with some creativity, the distributor was able to provide a unique bottle—which included the plug and cap—and offered decorating options to achieve the desired pink hue. The distributor arranged for this clear bottle to be spray-coated in pink, and then provided hot stamping and screen printing to complete the look. The finished product offered a cohesive look to the entire line while staying within the restraints of a tight budget and small-quantity orders.
Drug & Pharmaceutical
Gold: LNK International - Walgreens Easy Open Product Line
Distributor: Package All Corporation
A combined marketing and R&D process was done with the packager and retailer. The retailer was trying to achieve a similar package to a well-known national brand. The result was an easy-off closure for the arthritic and aging community. Products included are: Walgreens easy-open Low Dose Aspirin; Walgreens easy-open Extra Strength Pain Reliever Acetaminophen; Walgreens easy-open Extra Strength Pain Reliever PM; and Walgreens easy-open Ibuprofen.
Silver: Innovative Therapies - ITI Wound Treatment Canister
Distributor: All-Pak, Inc.
Innovative Therapies went to All-Pak with a specific need in custom tooling. They were looking for All-Pak to reverse-engineer a canister to be placed into a previously produced wound-treatment device.This package is an integral part of the device in that its function is to collect fluid from an infectious wound. The two canister valves prevent any fluid from entering back into the machine that could cause potential contamination. Not only is this device paramount in the healing process, but it can also save a patient's life.
A straight-sided cylindrical canister was developed to fit into the wound-treatment device. Dimensions had to meet strict specifications in order to coincide with the machine's valves. The larger "cone" integrated into the lid, along with the valves, enables the canister to "lock" into the unit.
Bronze: Boehringer-Ingleheim Roxane Labs - 5-mL Dosage Cup
Distributor: All-Pak, Inc.
Dosage cups were designed to fit on the top of a closure and then be shrink-wrapped to a bottle. The design allowed better packaging line efficiencies. The cup was designed with an extension of plastic with three ridges to prevent nesting when cups were poured into a vibrating bowl during the packaging process.
Novelty
Gold: Panos Brands - Mr. Sprinkles/Rainbow & Sprinkle
Distributor: Lerman Container Company
Panos Brands was looking for packaging to display their product differently than generic brands. They came to Lerman looking for packaging ideas that would separate and identify their product from the rest. They also wanted a kid-friendly look and feel. Lerman suggested the upside-down bulb shape of the teardrop round, easily handled by small hands. The package design also required a custom dispensing closure. A baseball-style cap was developed with an oversized lid on the cap that made it easy for little hands to open and pour. The shrink-sleeve label fit this bottle perfectly to add that kid-attracting look. The completed package gave the customer just what they wanted, an identifiable package, kid-friendly in use, and an attractive, unique shelf presence.
Bronze: The Wine Pill Shop - The Wine Pill
Distributor: All American Containers, Inc.
The Wine Pill Shop approached All American Containers with a "novelty" product that answers the needs of today's health-conscious society – the "Wine Pill." It is a wine "vitamin" that provides users with all the benefits of wine without the effects of alcohol. The package is designed with a unique wine-bottle shape.
Food & Beverage
Gold: First Juice Inc. - First Juice
Distributor: TricorBraun
Packaging for First Juice takes the silicone valve technology for dispensing closures to a new level and a new age group. Most silicone valve closures used on beverages are for adult use - they provide a heavy product flow due to a very flexible valve and flexible bottle. First Juice needed the very opposite, in an economical, disposable package, for a line of low-sugar juices for toddlers. The closure was designed for a toddler's mouth size and shape. They have to suck on the closure for juice to come out, and the bottle is not squeezable by toddlers, so a choking hazard due to a sudden large amount of product being swallowed is eliminated. The non-spill closure does not leak in any position, even inverted. The smaller-size bottle with the "sippy" cap was designed to be reusable and can be refilled from the 32-oz package.
[Note: This package also received an IoPP AmeriStar award, see 2008/2009 AmeriStar winners revealed news-27193]
Silver: Cape Cod Chowder
Distributor: TricorBraun
Most people think glass jars when they think about packaging sauces, but not the Cape Cod Chowder Co. This stock plastic tub is great for packaging various pasta sauces. The product can be warmed and stirred in the container. The unusual packaging in this category makes it stand out on the shelves The rectangular shape and stacking ability mean more products on the shelf, for less chance of an out-of-stock situation.
Bronze: Sezerac Company - Eagle Rare Family of Bottles
Distributor: Continental Packaging Solutions
This family of sizes for a boutique, single-barrel bourbon is more traditionally thought of in wine terms. The tall bottle design serves several purposes:
• The majestic height conjures up the Eagle's own majesty, while the height also gives the branded Eagle soaring wings.
• The tall, thin design makes it possible to add the labels on both front and back without sacrificing on decoration.
This line features an application of organic (ceramic) silk screening of a striking design, coupled with two gray-silver metallized pressure-sensitive labels. It's topped off with a tamper-evident band that adds elegance, as well as function, to the package. All of these features appear on a flawless, heavyweight glass bottle that glows for a line of fine spirits that soars above the others.
Cosmetics & Personal Care
Gold: Depth Body - Depth Body
Distributor: TricorBraun
Depth Body wanted a package that accentuated the moisturizing qualities of their products. The distributor designed their line of bottles in a teardrop shape, representing the product's moisture. The distributor provided all components in this line, including three custom designs, three molds, and decorated containers, all shipped within four months of the order. The line includes custom 9- and 12-oz PET bottles molded with 50% post-consumer recycled (PCR) content. The lotion's rounded teardrop shape provides a stable base. The flatter teardrop shape used for the shampoo is perfect for the shower—it's easy to hold and provides a compact footprint. Sustainability was also important, so the distributor worked with the packager to provide bottles with as much PCR content as possible.
Silver: Alcora Corp. - l'Eudine Hair Mask and Hair Polisher
Distributor: All American Containers, Inc.
Replaced previously used stock packaging with high-end custom components to offer a complete family of packaging for Alcora's line of products.
Bronze: Apollo Health & Beauty - Blade Body Wash
Distributor: TricorBraun
Blade: A strongly masculine name for a men's shower gel line of products that required a "cutting edge" package to stand out from the growing lines of men's grooming products on the shelves. The 12-oz oval high-density polyethylene bottle is extrusion blow-molded with an oval polypropylene snap-type dispensing closure. All components are black, denoting strong, tough products for tough guys. The slanted shape at the top with the hole designed into it symbolizes the edge of a knife. It also makes it easier to grab in the shower and to hang on a hook on a shower organizer.
Household Chemical & Auto
Gold: Winston Company, Inc. - Crystal Clear Water Gardening Product Line
Distributor: TricorBraun
A complete package overhaul for water gardening products was requested, but the volume needed didn't justify custom tooling. However, stock packaging in black would stand out from other water gardening products on the shelf, which are generally in blue or white. Winston Company decided to color-code their products to simplify the consumer's selection. The combination of vibrant closures and matching labeling with the black package has proven highly successful.
Silver: Liquid Fence - Yard Net
Distributor: Zuckerman-Honickman, Inc.
Spraying insect repellant with a trigger-spray bottle is often too much work if you're covering a typical yard. Buying a large tank or backpack sprayer is often too expensive and unnecessary for most yards. This hand-operated sprayer dispenses continuously after a quick prime, making it is easier to use than trigger sprayers. It does not allow overkill like tank or backpack sprayers. The distributor supplied the container and the compressed air sprayer, and also applied the shrink label. A clear area on the label shows a maximum fill level.
Bronze: Bona USA - Bona Hardwood Floor Mop
Distributor: TricorBraun
The Bona Hardwood Floor Mop project began with a request to develop an all-in-one floor mop to replace the current cleaning system that included a floor mop and separate spray bottle with trigger sprayer for dispensing the cleaner. The unique design of both the floor mop and refill cartridge helped to build brand identity for a relatively new player in the retail floor-care market.
A powerful precompression sprayer delivers 2.2 cc of the product in a finely dispensed, fan-shaped spray pattern–essential when applying a water-based product on a wood floor. The design addresses the product and package life cycle. A more durable design means a longer lifespan for the product, increasing the product's perceived value. A washable, reusable microfiber pad eliminates the need for costly, disposable replacement pads. All parts were designed to fit into a thin, rectangular carton, maximizing cube space for shipping/distribution. There are windows to give the consumer a view of what they are purchasing, but there is no plastic, making it easier to recycle.
General Industrial
Gold: Syngenta Crop Protection - 4-L Slant Neck Handleware Bottle
Distributor: All-Pak, Inc.
Syngenta wanted a unique package to contain products from their Professional Products Division. Syngenta took this project seriously and performed extensive market research to determine that their customers wanted something that was easy to visually distinguish from other products, was more ergonomic, and made pouring the product easier. Given the results of their research, Syngenta's expert team of in-house designers and engineers began by producing a prototype package.
After spending significant time ensuring this project would succeed, they asked All-Pak's assistance in refining the design to take to market.
All-Pak did the following: 1) widened the footprint for stability and increased the size of the label panel; 2) included inserts for the graduation marks to give the option of producing it with or without; and 3) located a supplier that was willing and able to handle the challenges of this unique design given that the bottle blowing had to be performed in a nonstandard fashion.
The result was a 4-L container thatestablishes Syngenta's brand across their multiple Professional Products lines; provides an ergonomically textured handle (so workers avoid having to remove work gloves while using); and maintains easy, no-glug dispensing with the slanted handle/neck and wide, 63-mm opening.
Silver: Hillyard - Double Down
Distributor: TricorBraun
Hillyard was able to improve performance and safety while lowering their packaging costs. Dual interlocking bottles and a snap-closure design allowed for a mixing of the two products in mid-air prior to the product reaching the carpet or garment to be cleaned. The one-piece cap design was an improvement from other two-, three-, and four-piece designs in the market. The bottle design allows for minimal pressure to be applied to evacuate product evenly from the two bottles. The blend of high- and low-density polyethylene produces bottles with just the right "squeeze" factor. Consumer protection from the package contents is greatly enhanced in the new design by eliminating assembly as in the previous packaging design. The one-piece closure eliminated the need for an entire mold, an additional part, and the assembly costs that are seen in other "mixing" type closure applications. The new bottle and cap design replaced an existing dual sprayer and bottle package for Hillyard.

Bronze: Valent Biosciences - Maxcel
Distributor: Continental Packaging Solutions, Inc.
Fiveliters of product needed to be packaged in a handy, functional shape that would fit many requirements. Those requirements were met with an F-style container with the following features:
• Squat design provides stability, ease of filling, and greater stacking strength, which is important in this product that is used in open-field applications.
• Greater capacity, with =a significantly larger overflow than most 5-L containers, to accommodate the foaming nature of the products.
• Added gram weight and improved base design allows for UN Package Certification.
• Wide mouth and a deep-skirt neck finish allow for further shipping and stacking strength requirements. More custom features include embossing on the bottom and on the shoulder, which may be customized for other customers and other languages. Decoration on the top of the closure is also included.
Pet & Vet
Gold: Liquid Fence - Liquid Net
Distributor: Zuckerman-Honickman, Inc.
Spraying hard-to-reach spots on pets has always been a chore. Trigger sprayers are not made to work upside down or even sideways because the liquid must enter through the bottom of the dip tube. This makes spraying pets particularly difficult, especially when spraying up from under them. To solve that problem, Zuckerman-Honickman worked with a sprayer manufacturer to develop a 360-deg sprayer that works in any position, even upside down. This sprayer gave Liquid Net a marketing advantage over the competition, resulting in increased sales. A hangtag helped make the consumer aware of this feature. The distributor also sourced a stock bottle that is easy to hold in any position and also supplied the full-body shrink-label application.
Silver: Three Dog Bakery - 20-oz Dog Bone Tin
Distributor: Berlin Packaging
Three Dog Bakery is the original bakery for dogs and has been serving canine companions and their owners since 1989. Berlin Packaging wanted to create something that was unique for Three Dog Bakery to set them apart from their competitors. The distributor worked closely with their global division to create a special holiday promotion for Target. As a result, the newly designed tin is shaped like a dog bone. The holiday decorations were printed using a four-color CMYK printing process plus two Pantone colors.

Bronze: Go-Marr Products, Inc. - Barktini Blends Pet Shampoo & Spritzers
Distributor: NorthPak Container Corporation
Glo-Marr Products came to the NorthPak Container looking to package a unique blend of pet shampoos and spritzers to the pet marketplace. The idea was to keep a simple design approach and a family of sizes, and to use the product color to help market the different SKUs. The distributor presented Glo-Marr with a variety of stock PET bottles, sprayers, and dispensing caps.
Eventually, Glo-Marr selected a squat Boston round clear PET bottle to capture a consumer salon/spa looking package; the distributor used their knowledge of stock bottles from a variety of manufacturer's to help create the look Glo-Marr was trying to achieve.
-Rick Lingle

Companies in this article