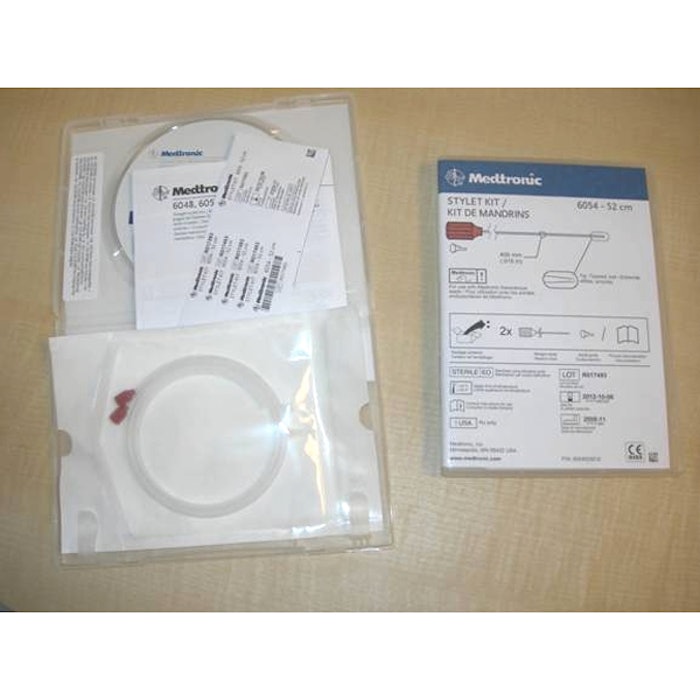 Judges from different walks of the packaging community evaluated and analyzed packages from more than 15 categories on January 22 for the 2008/2009 AmeriStar Awards, sponsored by the Institute of Packaging Professionals (IoPP, www.iopp.org). More than 125 packages were submitted for award consideration. Judging, which took place at IoPP headquarters in Naperville, IL, was based on package innovation, sustainability, protection, economics, performance, and marketing.
Thirty-five packages were chosen as winners across categories including: 9 winners in the Food category; 2 in Food-Institutional; 5 in Beverage; 6 in Health & Beauty Aids; 1 in Household Products; 2 in Electronics; 1 in Other Retail; 1 in Regulated Packaging; 4 in Medical Device; 2 in Industrial/Commercial; and 2 in Promotional.
Medtronic's new Stylet Kit Package, which earned recognition in the Medical Device category, won the AmeriStar Best of Show Award, sponsored by Lansmont Corp.
The new package is 80% smaller than the previous design and reduces package waste by 54%. The new downsized package, which eliminated polyvinyl chloride from the package, utilizes a clip-less dispenser and DVD case. Symbols labeling reduced final product configuration from 237 to 42.
Sealed Air won this year's 3M Sustainable Packaging Award, for the Renew-a-PAK™ package. The 3M Sustainable Packaging Award, sponsored by 3M, is awarded to the package that scores highest in reducing the impact on the environment. This includes efficient energy usage, recycling efforts, effective use of packaging materials, recovery and/or eco-friendly raw materials.
Manufactured in the U.S. by Biosphere Industries and using almost exclusively yearly renewable starch and plant materials, Renew-a-PAK compostable rigid packaging enables bakery items to be baked, shipped, and served in a more environmentally responsible manner with performance that matches or exceeds competitive cooking options. It also won gold in the Food category.
More winners appear below.
Awards will be presented to winners during the AmeriStar Package Awards Reception, taking place on May 19, 2009, at the Hyatt Regency O'Hare, in Rosemont, IL, during the IoPP Packaging Summit '09 (May 19-20, 2009).
For more information about IoPP's AmeriStar Package Awards Competition and/or the AmeriStar Package Awards Reception in May, contact Carole Schiller, awards and events manager, at 630/696-4006 or cschiller@iopp.org.
Visit www.iopp.org/ameristar.
All other AmeriStar winners:
Category: Food
Post-consumer recycled PET (rPET) in frozen food trays
ConAgra Foods' inclusion of rPET into CPET trays for frozen foods has driven large positive environmental impacts without any negative impact to consumer use, quality, or costs.
Submitted by: ConAgra Foods, Inc.
Archer Farms Linearpak®
Target's new Sonoco-made cereal boxes promise to bowl consumers over. The shaped Linearpak packages make Archer Farms cereals easy to open and hard to miss.
For more on this package, see Economic concerns battle convenience for supremacy.

Submitted by: Sonoco
Cryovac® Multi-seal™ package
The Cryovac® Multi-seal™ package is a reclosable flexible package for sliced deli meats and cheeses that can be easily and reliably opened and resealed numerous times over the life of the product. It runs on existing thermoforming equipment so there is no need to invest in auxiliary equipment.
For more on this package, see Flexible films find gold in FPA awards.

Submitted by: Cryovac
Food Should Taste Good - OTM™ structure
Printpack Inc. developed the OTM™ structure to provide Food Should Taste Good with an attractive, cost-effective three-layer alternative to the standard five-layer lamination. OTM eliminates bag burst from high-altitude pressure, while also reducing the amount of raw material utilized in the package's construction.
Submitted by: Printpack Inc.
Renew-a-PAK™ bake ware
With the introduction of Renew-a-PAK™ compostable bake ware, bakery items can be baked, shipped, and served in a more environmentally responsible manner without transferring products from a baking system to a display system.
Submitted by: Sealed Air Corp.
International Delight
An initial plan for a quick-fix to the International Delight package turned into a mission to achieve elegance, sophistication, and category differentiation. Product Ventures had the solution.
Submitted by: Product Ventures (for more on this package, see packworld.com/webonly-27136)
Plastic extract bottle with drip-less pour-spout flip-top closure
McCormick's® new extract package not only offers sustainability with weight and footprint reductions by converting the bottle from glass to PET, but also offers a specially designed, consumer-preferred, drip-less pour-spout closure. All while maintaining the appealing flavor and aroma of McCormick extracts.
Submitted by: McCormick & Company, Inc.
Rigid plastic container made with Diamond technology
Diamond technology is a unique, patent-pending approach to reduce material by 20% to 30% in square and rectangular rigid plastic containers while maintaining stack strength. This has been applied to a range of sizes, from 1.75 to 5.3 gal, to service the food industry, even though these containers can be used across many different nonfood applications as well.
Submitted by: Ropak Packaging
Modified atmosphere reclosable Natural Sliced Cheese Package
Great Lakes Cheese, Inc., in partnership with Winpak Portion Packaging, Inc, Winpak, LTD., Harpak, Inc., and G. Mondini S.p.A., developed the modified atmosphere, reclosable Natural Sliced Cheese Package. The package is a combination of three components: a rigid thermoformed high-barrier tray; a nonforming high-barrier peelable lidding film; and a rigid high-clarity, UV-blocking plug-fit lid. Combined, the three components provide a significant functionality and convenience upgrade over the zipper bag package for the natural sliced cheese market. The package was designed to run on Harpak/Mondini's proprietary tray-sealing line. With this improved package, Great Lakes Cheese is able to offer natural sliced cheese with a six-month shelf life that can be merchandised on existing retail pegboard and spring-loaded shelving systems.
Submitted by: Winpak Portion Packaging, Inc.
Category: Food–Institutional
Container with curved auto-bottom lock & bow-tie locking lid
This container creatively marries the product and package. Using an innovative curved auto-bottom lock along with creative graphics delivers a uniquely Asian-themed appearance. This imaginative package delivers the desired product image while providing significant benefits throughout the supply chain.
Submitted by: HAVI Global Solutions
Pactiv's Denny's® Dome
A challenge in regards to take-out food is how to maintain the restaurant quality. Traditional take-out containers have not addressed the specific temperature and humidity requirements for different food types in one container. The Denny's® Dome introduces the first and only container developed to solve these challenges. This revolutionary three-zone temperature and humidity control container incorporates several features that appeal to both customers and end users alike.
Submitted by: Pactiv Corp.
For more on this package, see Denny's Dome keeps breakfast-to-go hot 
Category: Beverage
Reily Foods 16-oz RTD Luzianne tea bottle
The brand's first RTD (ready-to-drink) line features a PET bottle first - a slightly tapered shape on a pedestal - with enhanced hand-feel and a patented, panel-less design for wrinkle-free labeling.
Submitted by: Amcor PET Packaging
First Juice
Innovative no-spill closure provides an economical, yet safe, disposable sippy cup package designed just for juices for toddlers. Automated closure assembly process makes for economical closure, and closure design appeals to stressed, time-starved parents.
Submitted by: TricorBraun
PET bottle for Boisset Family Estates' Beaujolais Nouveau
Boisset chose Constar to supply MonOxbar™, an oxygen-scavenging technology, and preforms for its new 750-mL PET wine bottles. Oxygen is kept from permeating into the bottle, thereby protecting the flavor, aroma, and color of the wine inside.
Submitted by: Constar Intl., Inc.
Crown Royal Green Gifting
For the 2008 holiday season, Diageo's value added packaging (VAP) team and Hub Folding Box (their primary gift carton supplier), redesigned Diageo's premium spirits gift packs to be 100% recyclable. Through this effort, they eliminated the use of plastic resin PVC and metallized polyethylene- (MPE) laminated board.
Submitted by: Diageo
Starbucks hot vending package
This initiative is managed by the North American Coffee Partnership (NACP), the joint-venture between Starbucks Coffee Company and PepsiCo. With this proprietary heat-on-demand vending machine and package, customers can enjoy the high-quality beverage they expect from Starbucks in a convenient ready-to-drink (RTD) package. With the swipe of a credit card or cash, a hot cafe latte or hot cocoa is dispensed in a 9-fl-oz, recyclable steel can. With a protective overcap and an insulating label, designed to be more comfortable to the touch, the package is functional within the vending machine and delivers a premium product. Once dispensed, the consumer just pulls the stay-on tab (SOT) and enjoys one of the six Starbucks varieties.
Submitted by: PepsiCo
Category: Health & Beauty Aids
Estee Lauder TurboLash All Effects Motion Mascara
The launch of the Estee Lauder's TurboLash™ product demonstrates an interesting method for successfully commercializing a new idea - and a new product category. Estee Lauder introduced TurboLash, the world's first "turbo-charged" motion mascara with a vibrating brush. This groundbreaking mascara technology utilizes vibration to volumize, separate, and lengthen lashes. The Turbolash package was formed in concert with formula breakthroughs and provides a perfect marriage of form and function.
Submitted by: Estee Lauder Inc.
Bobbi Brown custom palettes
Personalized Beauty. Sleek, new flip-top compacts designed with pop-out godets allow shades to be assembled into customized palettes. Eye shadow and blush can be used individually or assembled into Bobbi's two-, three-, four-, six- and nine-pan palettes. These empty, mirrored palettes are designed to be custom-filled. Ideal for at home or on-the-go.
Submitted by: Bobbi Brown Cosmetics (Estee Lauder Inc.)
MAC Mineralize makeup
The Mineralize Loose Powder package consists of a matte black ABS/SAN decorated jar, a PP sifter, and an ABS/SAN integrated cap and product applicator. The inside of the cap/applicator assembly consists of a flocked-tip surface designed to apply product directly to the face. This unique application process solves the problem of traveling with loose mineral makeup and a separate brush.
Submitted by: MAC
L'Oreal Infallible lip color
Infallible is the first 2-in-1 long-lasting lip color that innovatively houses two products, side-by-side, in a lavish metallized chrome casing, which doubles as a mirror, making this package very user-friendly.
Submitted by: Topline Products Company, Inc.
Podle™
Introducing the MWV Calmar pocket-size, portable Podle™, customized to extend Unilever's SunSilk brand to a new level of convenience and design.
Submitted by: MWV Calmar
Artistry Crème L/X
Artistry Crème L/X is a prestige skincare product that offers the latest in anti-aging technology. The custom shaped jar and closure and secondary package ("trophy case") were designed to communicate the cutting-edge technology of the product while still being an elegant and functional package.
Submitted by: Access Business Group
Category: Household Products
Clorox Disinfecting Wipes Décor series
A beautiful, innovative packaging form to motivate consumers to get Clorox Disinfecting Wipes out of their cupboard and on the counter top.
Submitted by: Clorox Company and Union Street Packaging
Category: Electronics
Minn Kota AutoPilot plug-in modules
Display Pack designed and produced the prototype plastic insert and the printed auto-bottom carton for the Minn Kota AutoPilot plug-in module. The innovative design has a dual purpose of protecting the sensitive module while packaged and becoming a device for an easy and accurate installation.
Submitted by: Display Pack
Hewlett Packard's (HP) U M5035 Clearview package
Hewlett Packard's Clearview design approach for large LaserJet printers provides a "see-through," cost-effective, environmentally friendly package.
Submitted by: Hewlett Packard
Category: Other Retail
PALPODZZ PDQ
This design concept uses innovative interaction of plastic and corrugated material to minimize volume effect and enhance customer convenience.
Submitted by: OSRAM Sylvania Inc.
Category: Medical Device
Safe Sedation medical cart/ Ethicon Endo-Surgery
This packaging was designed to ship the Sedation medical cart to customers around the world, with the customer's experience unpacking the cart in mind. The product can be shipped completely assembled and although it was almost 80 pounds, can be unpacked by one person.
Submitted by: Ethicon Endo-Surgery and Anchor Bay Packaging
Anspach bone dissection clamshell
Plastic Ingenuity, in conjunction with Anspach, has developed an Innovative plastic clamshell to protect Anspach's bone dissection medical tool.
Submitted by: Plastic Ingenuity
GIBCO bottle by Life Technologies
The GIBCO bottle is an entirely new cell culture-media container designed to improve efficiency of storage and ease of use for the scientists who use these sterile products in their laboratories.
Submitted by: GIBCO Cell Culture Systems, a division of Life Technologies
Category: Regulated Packaging
Ex 812 Mod 0 Airborne Mine Neutralizer Destructor Container
The Ex 812 Mod O Airborne Mine Neutralizer Destructor Container is an aluminum-extruded sidewall design that meets the packaging, handling, stowage, and transportation needs of the Ex 64 Expendable Destructor and the Ex 65 Exercise Neutralizer, both integral components of the AN/ASQ-235 Airborne Mine Neutralization System (AMNS). The container includes a shield to provide compliance with Insensitive Munitions requirements.
Submitted by: NSWC
Category: Industrial/Commercial
2.5-L OptiFill®
OptiFill® system is the first of its kind maintenance-free, disposable chemical dispenser used for manual ware washing. The intuitive design, which integrates bottle and dispenser, was created for simple use with precise control over dilution rates, while maintaining structural integrity in an abusive work environment.
Submitted by: JohnsonDiversey, Inc
Double Down
Package includes a patented dual-dispensing closure with directional feature on top of two interlocking bottles. Package was designed with large area for marketing. Sustainability improvements include using less materials and improved ease-of-use by the customer.
Submitted by: TricorBraun
Category: Promotional
Werther's® Original® Caramel Chocolate trial pouch
Smallest known stand-up pouch at 3-3/8 in. W x 1 in. D x 4 in. H is used to promote retail point-of-sale sampling of chocolate candies. Suitable for single-pouch, bulk-counter, and gravity-feed displays.
Submitted by: Packaging Science Center
GUM Soft-picks Professional Sampler
Challenged with growing demand for dental hygienists to promote alternative inter-dental cleaning and constrained capacity, this package redesign resulted in a weight reduction of 40%, complete conversion out of petroleum-based base materials, and an 84% volumetric reduction per package. Package significantly improved positioning and branding and annual savings in excess of $500K/yr.
Submitted by: Sunstar Americas, Inc.
Companies in this article