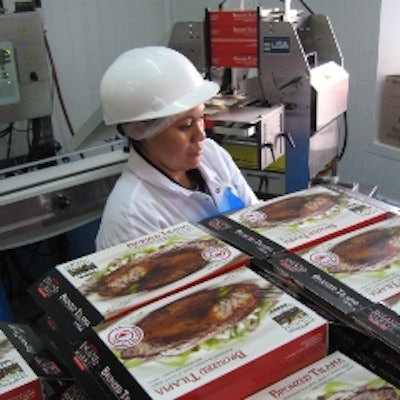 Initially a bulk packer for restaurants and retail fresh seafood cases, Inland Market Premium Foods recently launched an exclusive, high-end Inland Market retail brand on a nationwide basis. The Atlanta-based firm's quality entrees include bronzed tilapia, king crab cakes, beef Wellington, and chicken cordon bleu wrapped in puff pastry.

Management paid close attention to packaging as it developed its retail brand. The eye-catching 24-pt SBS cartons are printed offset in six colors by supplier All State Packaging (phone: 74.228.187.170).

Inland also gets a boost from the equipment side. Operators erect the cartons from flat blanks and then insert the film-wrapped and frozen product into the cartons. At this point the operator puts the loaded carton into a Twinseal carton sealer from Econocorp (www.econocorp.com) with only the trailing dust flaps closed. The infeed plow rail automatically closes the leading dust flaps and inner major flaps as the carton approaches the gluing area. The machine cycle is automatically initiated when a carton reaches the proper position in the Twinseal. Hot melt glue is then applied to the underside of both outer major flaps simultaneously and the carton is lifted automatically into a vertical compression area. Finished cartons are discharged down a delivery chute back to a convenient working height and go through a metal detector from Mettler-Toledo Hi-Speed (www.mt.com/hi-speed).

"We wanted an entry-level machine that would be a work horse for us," says Evan Pihera, the company's project manager. He notes that the machine came to his attention through X-CEL Systems (phone: 931/456-6889), an Econocorp distributor.
"The Twinseal represents a small investment in return for some real increases in productivity," says Pihera. "Previously we toyed with glue strips and other manual sealing methods that required a shift of 10 employees to pack and seal only about 10 cartons per minute. With the Twinseal, we run 18 cartons per minute with only two operators. It's been the perfect entry-level machine."

Companies in this article