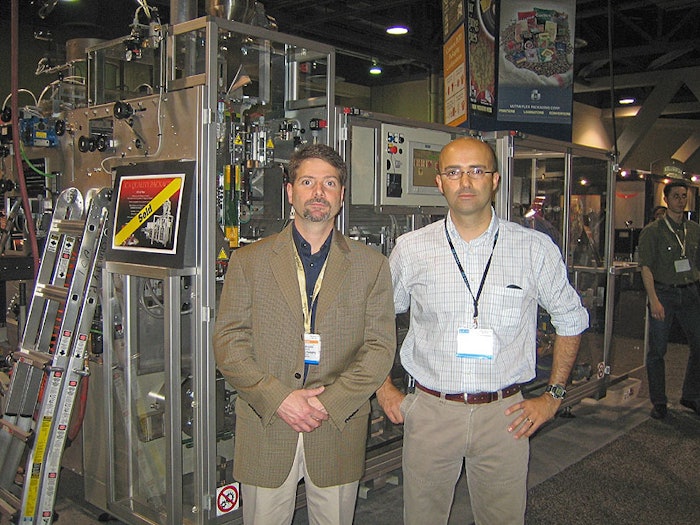 There were many simple vertical form/fill/seal machines on display at the Specialty Coffee Association of America's annual conference at the Long Beach Convention Center. But none displayed such servo-enabled functionality and performance as ICA's CSV40 Paket.
Two indications of this coffee packaging specialist's popularity among coffee industry visionaries were apparent: the ICA machine on display sported a "SOLD" sticker, the unit going to Caribou Coffee, a rising star among destination coffee houses.
And on Monday, conference goers thronged to tour the roasting facility of the highly respected 137-year old Gaviña & Sons in nearby Vernon, CA, where no fewer than ten ICA machines are in operation.
The value of specialization
Increasingly, specialization has proven a critical element in successful packaging business strategies. Even the name SCAA begins with "specialty." The annual SCAA conference attracts over 10,000 specialty coffee professionals and over 850 exhibitors.
ICA packaging systems are highly suited to flexible packaging for a range of dry products, as well as delicate bakery products, flour, detergent and sugar. These include filling, check weighing, vacuum and modified atmosphere packaging.
But the company has always focused substantial resources on meeting the needs of the coffee industry. These innovations include high quality degassing valves to maintain the integrity of coffee bags, single serve filter pods, secondary packaging for pods, patented Quad Seal retail packaging and brick packs.
Specialized control
Likewise, ICA's automation technology provider, ELAU, specializes exclusively in controlling packaging machinery. Between the ELAU-enabled control system and ICA's new
Ic@Win
® human machine interface, the systems provided the flexibility and throughput for roasters to respond quickly to changing market requirements and new trends.
According to ICA's trade show news, "The packaging line's automation uses the 3rd generation ELAU motion control technology….The most relevant features are:
• Only one control unit to program, operate and maintain for all the machine functions – including PLC implementation
• Temperature controlled by the company's "
Ic@Pid
®" software
• Incorporated ICA check weigher operation
• Complete machine operation with electronic cam function, totally configurable by the operator
• Ethernet TCP/IP communication network for programming, for human machine interfacing, for remote assistance and for connecting to the company's
Ic@Net
® as the supervisory system
The CVS40 Paket in action
The machine sold to Caribou Coffee at the SCAA conference is a 55 ppm vertical form/fill/seal system that is modular and highly automated. (A Twin Tube configuration can reach 70 to 75 ppm.)
The result is a perfectly squared bag for excellent shelf presence, consistently filled, with simple or double folding top flaps that can be sealed by labels, adhesive tape or hot-melt glue points. The CSV40 Paket has the ability to produce flat top (paket shape) bags in addition to pillow shape and/or flat bottom bags.
The CSV40 Paket offers additional options that include tin-tie fitting modules, coding systems, Aroma System degassing valve insertion, integrated check weighers, side longitudinal sealing, overprinter, gas flushing and online diagnostics.
About ICA
Contact ICA Quality Packaging in North America at
qualitypackaging@comcast.net
or visit ICA's corporate website at
www.icaspa.it
.
Established in 1963, ICA has a track record of over 4,000 packaging lines installed worldwide. The company holds several international patents and invests heavily into R&D both for new machinery and to keep proven designs up to date. ICA supplies complete, automated packaging lines, from the storage silos to shrink wrap bundling machines.
About ELAU
ELAU equips over $1 billion worth of the world's best machines annually, with over 30,000 PacDrive systems already deployed in packaging machinery worldwide. PacDrive is the first truly integrated automation architecture, capable of performing the functions of PLC, motion control, robotics, temperature control, PLS, MES data interface and more in a single, standards-based software environment.
For more information, visit
www.elau.com
or email
info@elau.com
.
Companies in this article