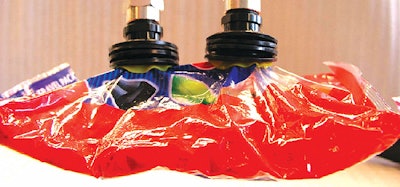 As robotic functionality of packaging machines increases, so does the interdependence of vacuum and servo systems.
The limiting factor in otherwise high performance servo packaging machinery is often the vacuum system. Top speeds, the ability to accelerate and decelerate a payload, and the amount of energy required to run all depend on getting a good grip on the package.
This is especially true of robotic machinery, one of the leading trends in design (see the articles). That's because traditionally, vacuum has been applied to relatively straightforward tasks such as carton erection from a magazine. With robotic gripper systems you're working with dynamics that range from shapeless bags of fragile chips, to heavy filled containers of variable weights and dimensions.
For this reason, Packaging Automation recently asked PIAB applications engineer Andy Lovell and ELAU apps engineer Matt DeLuca how to best manage these interactions.
"From a physics standpoint, the servosystem has to overcome the combined inertia of the end-of-arm tooling and the products being handled," according to DeLuca. "But it also can't accelerate so fast that it overcomes the gripper's holding power."
Advances in gripper and vacuum pump designs
"Vacuum system and gripper design both turn out to be critical to this balancing act," says Lovell. "And while the benefits of multistage vacuum pumps are better understood than just a few years ago," says Lovell, "suction cups are wrongly taken for granted."
Recent advances in cups include polyurethane material replacing nitrile in new, dual-durometer designs that combine strong sidewalls with thin, pliable conforming gripper faces optimized for sealing to difficult surfaces such as bags.
According to Lovell, properly designed, air driven vacuum systems are most always more energy efficient than continuously running mechanical pumps. Innovations, like PIAB's patented COAX® vacuum cartridge technology, offer improved performance and application flexibility and enable the vacuum source to get as close to the product as possible. Decentralizing a vacuum system (using multiple smaller pumps in place of one large centralized pump) optimizes suction cup operation, helping achieve a high initial flow compared to conventional centralized pumps that experience pressure losses as the vacuum travels through hoses to the tooling.
Ensuring adequate vacuum flow is as critical as providing sufficient vacuum pressure. Although the holding force of a suction cup depends on the vacuum pressure, it is the level of vacuum flow at the cup that determines how quickly and securely the grip is established.
Because each cup's vacuum level is independently controlled, loss of suction in one cup -- trying to grip over a score line on a carton, for example -- does not affect the others. Vacuum is inherently balanced compared to daisy chained, centralized multi-cup systems where flow is highest in the first cup and degrades with each successive one.
Interaction with control system is simple but critical
"Robotics are all about handling a greater variety of products at high speeds," says DeLuca. "So the tighter you synchronize robotic motion with the rest of the packaging process, the better. That has led OEMs to design robotic picking, indexing, cartoning and case packing functionalities into their machinery rather than integrating separate robots and robot controllers."
Performing all control functions in a single program running on a single processor results in the fastest possible control response and cycle rates. ELAU accomplishes this with a robotic software library that permits one automation controller to operate multiple robot arms that would otherwise each require their own controllers -- along with the rest of the machine functions.
In this architecture, software objects replace discrete hardware for functions such as temperature control, firing glue guns, programmable limit switches and, yes, gripper operation.
About PIAB
As a global leader in industrial vacuum technology, PIAB provides innovative solutions that improve the productivity and working environment of vacuum users around the world. PIAB manufactures a complete line of vacuum pumps, suction cups, vacuum conveyors, and vacuum accessories, for a variety of automated material handling and factory automation processes. PIAB's recent innovations include vacuum pumps that utilize COAX®, a patented technology which integrates the internal components of a multi-stage vacuum pump into a highly efficient and flexible vacuum cartridge and Duraflex® suction cups which are designed in varying durometers and provide a strong, secure grip on a wide variety of handled products.
For more information, visit www.piab.com/us or email info@piab.com.
About ELAU
ELAU equips over $1 billion worth of the world's best machines annually, with over 30ꯠ PacDrive systems already deployed in packaging machinery worldwide. PacDrive is the first truly integrated automation architecture, capable of performing the functions of PLC, motion control, robotics, temperature control, PLS, MES data interface and more in a single, standards-based software environment.
For more information, visit www.elau.com or email info@elau.com.
Companies in this article