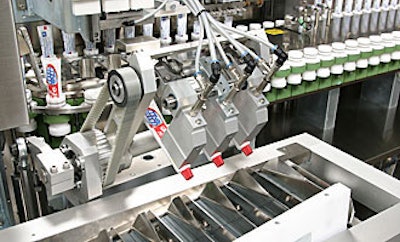 EEC forum features fresh venue agenda and exhibits
It was a beautiful spring day in Basking Ridge New Jersey with trees in blossom and tulips blooming. That's what leadership of the IoPP's most machine-centric technical committee the Eastern Equipment Committee had hoped for in pushing their event back to early May.
Advertising a new date new location a new agenda of operationally-oriented speakers and a new tabletop exhibit gallery the venerable conference drew a full house and very positive response from attendees that represented the Northeast's unique mix of pharmaceutical personal care and food packagers.
Program chairman Scott Low of Universal Machine and Engineering Corp. www.umc-oscar.com and speakers got right down to business identifying trends and holding to a tight schedule.
• John Henry changeover.com explained why there are no shortcuts to lean changeovers as opposed to cutting corners 'quick' changeovers. His practical advice ranged from putting a bead of silicone over the screw slots in flush fasteners to contaminant buildup to comprehensive documentation of the downtime occurrences and causes. Henry also lamented to disconnect between package design and the realities of packaging operations.
• Paul Zepf of Zarpac www.zarpac.com has been on the circuit explaining the many benefits of software to analyze and improve packaging machinery performance far beyond the benchmark of OEE. Proven technology licensed recently from Procter & Gamble is now part of the Zepf software allure.
• Jim Slamon of Norden Pac www.norden-pac.com explained cartoning fundamentals and the several benefits of the company's control platform ELAU's PacDrive automation system. He cited software effectiveness modularity small footprint servo performance flexibility and vastly simplified mechanics ("you can now see through one side of a cartoner to the other"). For proof he provided extensive application video of the company's signature 500 cpm tube filling and robotic cartoning system. These lines are widely used in toothpaste cosmetics personal care and pharmaceutical applications throughout the world.
• ELAU's John Kowal www.elau.com/packagingautomation found connections with earlier speakers. Following the Logistex end-of-line presentation he noted the trend toward robotics moving upstream to highly modular flexible secondary packaging machinery marked by interpack robotic introductions by companies such as EEC exhibitors Pester Pac www.pester.com with their pac robot 3 and 4 modules and IWKA with their A+F Automation TwinLine robotic case packers www.afautomation.com.
• Likewise the ELAU presentation addressed Henry's lament over opportunities missed when packaging machinery is treated as an after thought to package design. Examples of what can go right included machines invented to run innovative packages including machine builders designing packages that created markets for the equipment and purpose-built components such as ELAU's PacDrive SCL integral servo motor/drive that's radically changed rotary capping and labeling productivity and flexibility.
• Chip Seabolt of Product Animations www.productanimations.com demonstrated his company's new interactive form of computer-based operator and technician training to enhance changeover and operating efficiencies.
• Hartness International's Bill Gemmell www.hartness.com described the operation of the company's Dynac dynamic accumulation system
• Andy Modale of FKI Logistex www.fkilogistex.com provided an informative primer on palletizers and the merits of dedicated vs. robotic palletizing.
Feedback from attendees indicated that the volume of information and networking opportunities packed into a single business day resulted in a very efficient use of time indeed.
To learn more about EEC
To receive email updates from the EEC or volunteer to serve on the committee visit www.easternequipment.org.
About ELAU
ELAU equips over $1 billion worth of the world's best machines annually with over 30 PacDrive systems already deployed in packaging machinery worldwide. PacDrive is the first truly integrated automation architecture capable of performing the functions of PLC motion control robotics temperature control PLS MES data interface and more in a single standards-based software environment.
For more information visit www.elau.com or email info@elau.com.
Companies in this article