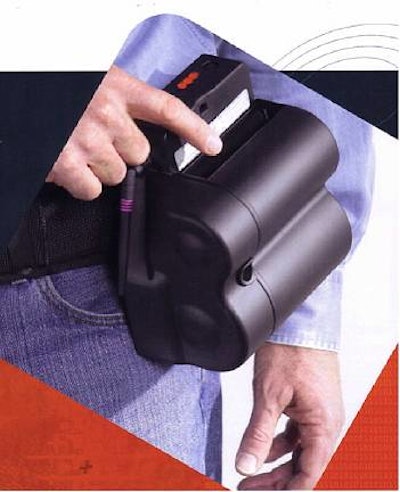 One of the more interesting new technologies we reported on in March from RFID World 2006 (see An RFID World of technology), was the wearable, wireless PAD3500 RFID commissioning system from Adasa Inc. that uses technology from SkyeTek.
We have since spoken with Adasa executive vice president Ken Phillips, who refers to it as "the first product in the new category of mobile RFID." Weighing 4 lb and worn on a belt, the battery powered PAD3500 WiFi system permits seamless, wireless connectivity to the user's information technology system. The tags are encoded and dispensed one at a time for application. It can be used where portals or fixed antenna setups are not appropriate, such as picking certain goods in a warehouse for RFID tagging.
Belt-worn cartridge preloaded with 500 tags
The system is intended for encoding RFID tags, it is not a reader. The heart of the system is the SmartCartridge[tm], a preloaded cassette of 500 Gen 2 RFID tags that can be quickly reloaded. Phillips says they have qualified UPM Raflatac's OneTenna RFID tags for use with the device, and are working to qualify others. Key highlights:
• Verifies the tag before application and retains bad tags in a take-up reel.
• Rechargeable lithium ion battery powers the system through a full shift.
• The system emulates an RFID printer-encoder, so it integrates into existing systems.
The basic PAD3500 is priced at under $5ꯠ. However, Adasa will announce on May 1 the availability of a bundled "Quick Start" comprehensive solution that includes two or more PAD3500 devices, a month's supply of SmartCartridges (20 units= 10ꯠ tags), site analysis, EPC compliance consulting, and integration. The Quick Start will be priced starting under $20ꯠ.
CPG-prompted development
Phillips says Adasa developed the system for a specific consumer packaged goods manufacturer customer that rolled it out in beta test March 1. The CPG is expecting payback from the technology, Phillips says.
The CPG is under RFID mandate for goods delivered through Wal-Mart's distribution centers. However, the device is ideal for the CPG's target application: Products for direct store delivery, which are not under the Wal-Mart mandate.
As Phillips explains, "most goods under the Wal-Mart mandate go through distribution centers, but direct story delivery is a whole other category of products not under mandate that do not go through a DC. However, Wal-Mart requires needs a proof of delivery for those products to confirm they get what the pay for, and so there's manual proof of delivery system."
RFID-enabled 'Easy Pass' system
Phillips says that a number of direct store deliveries can coincide creating a backup for the process. He compares it to tollbooth backups on expressways.
"What if an electronic 'Easy Pass' system were possible to help speed through the process?" he asks, pointing out that the PAD3500 provides such a solution. Obviously, it will become a more robust solution once RFID infrastructure becomes more widespread. "When that happens, we'll see all kinds of new uses for RFID," Phillips offers. "This is one of those."
The CPG's application
For outbound goods from the CPG, headset-equipped pickers are directed by computer to select goods from nearby pallets to place onto a conveyor. The PAD3500 is used to encode RFID tags for appropriate cases when directed by the software behind the voice-prompted pick system. The software matches item identification with the EPC tag. Those cases pass by an RFID reader before they are loaded into a truck on a last-in, first-out basis. That RFID read generates an Advance Shipping Notice for Wal-Mart or other retailer.
Phillips says the CPG's rollout will unfold in phases and include time-motion studies. "Especially in nonmandated situations, you need to know what it will cost by studying the labor before and after implementation. This device adds some labor, but the T&M study will indicate exactly the cost on a per-item basis or for multiple items or for an entire line of products for direct store delivery."
Interestingly, Phillips says some CPGs view this technology as a "strategic weapon" that provides a competitive advantage. "They are paying us [more] to keep out certain of their competitors via exclusive arrangements," he discloses.
Companies in this article