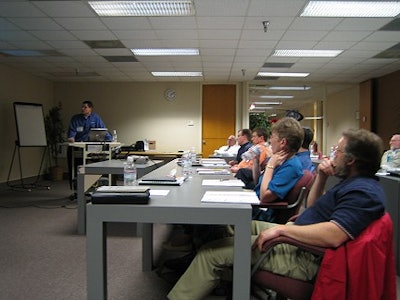 No kinematics expertise needed to embed robotics into packaging machines
At the PMMI Tech Talks workshop hosted by ICS Inex Inspection Systems in Clearwater Florida PMMI (Packaging Machinery Manufacturers Institute) member companies learned valuable lessons in safety – form a multitude of international regulations to risk assessment to the new robotic safety standard.
They also learned about another big trend in robotics – how to embed robotic functionality directly into their machine controllers rather than integrating third party robots and robot controllers.
A standards-based solution
ELAU applications engineer Matt DeLuca with the company's New England tech center showed how an IEC 61131-3 compliant software library lets OEMs implement robotic control on the same PacDrive controller running the rest of a packaging machine. The library requires no prior knowledge of robot kinematics otherwise a significant barrier to entering the robot market.
Kinematics are sophisticated mathematical equations required to synchronize multiple robot axes into the shortest smoothest most efficient paths. ELAU's library encapsulates the functionalities of most popular robot types within software objects called Function Blocks one of the IEC standard's primary building blocks for modular software.
A clear trend
While robots have long proven their usefulness in end-of-line applications this new breed is taking over primary and secondary packaging applications. These machines more closely resemble clusters of robot arms and servo collating belts than traditional cartoners and case packers.
Perhaps the ultimate in modular design the robotic machines recently hitting the market make changeovers as simple as swapping out end effectors selecting a recipe that automatically changes lug spacing and refilling the magazines. This scenario blurs the distinction between routine changeovers and total machine reconfiguration – redefining the meaning of flexibility.
In the past year OEMs in the U.S. Germany Italy and the Netherlands have already taken advantage of this robot library to develop products both integral to their machinery and as stand-alone robot modules. It's a trend that was documented in ARC Advisory Group's September 2005 analyst report Integral Robotics Raises Agility and Flexibility of Packaging Machinery: Modular Design Techniques Facilitate the Integration of Robotics.
Today a growing number of machine builders see robotic control embedded in the machine controller as critical to synchronizing robot motions with the rest of the machine – infeeds collating belts inspection systems and more.
Win-win for OEMs and packagers
As DeLuca explained machine builders are discovering they can leverage their innovative mechanical engineering skills and the software library to create new profit centers and add new capabilities.
Users appreciate the direct and indirect savings – such as training and support for one control system instead of two lower hardware and software costs increased flexibility and performance over conventional designs and smaller footprint.
In addition to the Tech Talk series ELAU is holding embedded robotics learning sessions both at its centrally located Chicago area tech center and at customer sites for interested engineering departments. To schedule a robotic session call ELAU at 847 490 4270 or email info@elau.com with the word 'robots' in the subject line.
What's involved
DeLuca explained the engineering involved. First are algorithms for motion path interpolation in a 3-dimensional space. Then there are transformation algorithms that convert tool center points to real angular positions of the servo axes. Additional axes must be synchronized such as end-of-arm tooling.
Special consideration must also be given to physical constraints. DeLuca noted that the robot's tool center point accelerations and velocities must not exceed the centrifugal forces that would cause the robot grippers to lose control of the product being handled.
And the robot must be synchronized with other system elements – to track with moving belts and synchronize with vision guidance to pick random objects.
DeLuca wrapped up by showing the engineering audience programming examples using the robotic IEC Function Blocks in combination with familiar ladder logic and vastly more powerful modular IEC programming techniques favored by progressive builders and packagers worldwide.
About ELAU
ELAU equips over $1 billion worth of the world's best machines annually with over 30 PacDrive systems already deployed in packaging machinery worldwide. PacDrive is the first truly integrated automation architecture capable of performing the functions of PLC motion control robotics temperature control PLS MES data interface and more in a single standards-based software environment.
To learn more visit www.elau.com or email info@elau.com.
Companies in this article