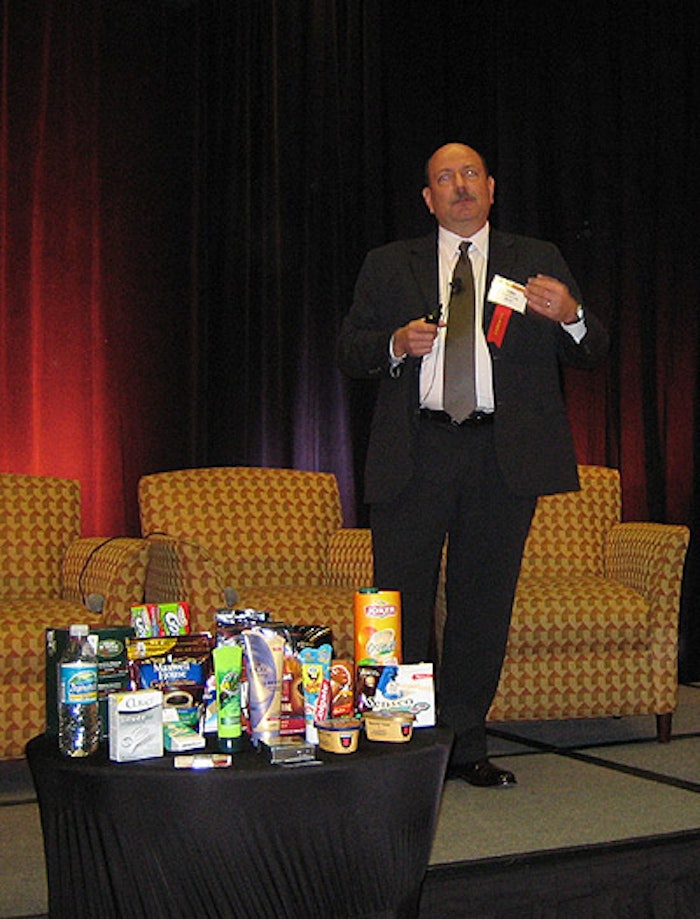 What if you design an innovative package and no machine exists to run it?
A record crowd at Package Design 2006 the conference organized by Packaging Strategies enjoyed a fascinating program.
For example Eye Tracking Inc. let designers try out their video headset rig and then analyzed how attendees' eyes viewed various packages and P-O-P displays. Procter & Gamble principal engineer Paul France briefed the audience on 'universal design' an approach to designing products and packages that are easier for everyone to use – it's really hot in Japan and Europe and increasingly entering P&G's design strategy.
ELAU rounded out the Wednesday morning session with practical examples of how critical the early involvement of packaging engineering can be to the success of a package design project. Armed with samples of innovative packaging and key aspects of the machines on which they run ELAU's global marketing manager John Kowal leveraged his ad agency background to present content relevant to a designer's needs.
A global perspective
ELAU's perspective is unique as the preferred automation supplier for makers of a large number of the world's most innovative packaging machines. That's because many of these machines had to be invented so that equally innovative package designs could see the light of day – a good reason to develop package and machinery requirements in cooperation.
Some intriguing package samples were flown in by Europe's top packaging consultancy Berlin-based Berndt&Partner. In several notable instances it was packaging machine builders who developed the package innovation along with the machine to run it. These included Hassia and the ubiquitous stick pack and Harro Hoefliger and the breath strip pocket pack.
Another featured trend was the inline integration of production and packaging – ranging from transdermal patches to breath strips to single-serve coffee pods and cups to laundry detergent/fabric softener capsules.
Technology transfer
Another clear trend was technology transfer of an innovative package type to a completely different product. Such was the case with breath strip packs with the technology reappearing recently as soar throat strips and even antibiotic strips for topical use.
Blister pack wallets were also cited as making the transition from pharmaceuticals to chewing gum. The corresponding machines range from Uhlmann's new self-contained tablet forming blister form/fill/seal and cartoning/banding system – ideal for short run physicians' trial kits or contract packagers – to a blister machine that Uhlmann claims to be the flat-out fastest in the world – suited to the high-volume chewing gum business.
Technology is being transferred between machine types as well. In meeting an inline coffee and tea filling machine's requirements Mateer Burt applied ELAU PacDrive SCL servo technology that had been purpose-built for rotary machines. They got the idea from parent Pneumatic Scale's application of the technology on rotary capping machines (the first such machines designed and built in the U.S.).
Get the best of custom and standard machines
The best machine builders are also making their machines modular. This allows highly customized machines to run unique package types to be delivered on the leadtimes of standard machines. It also makes changeovers and reconfigurations much more efficient. So the next innovative package design may readily run on modified rather than new equipment.
Asked by session moderator David Luttenberger whether packaging machinery builders would make themselves available for consultation in the earliest phases of package design Kowal responded that machine makers would relish the opportunity. To promote better understanding of what's possible Kowal suggested a cooperative forum between PMMI the Packaging Machinery Manufacturers' Institute and the Package Design conference.
Meanwhile audience members approached to learn more about featured machine builders to pursue projects of their own.
About ELAU
ELAU equips over $1 billion worth of the world's best machines annually with over 30 PacDrive systems already deployed in packaging machinery worldwide. PacDrive is the first truly integrated automation architecture capable of performing the functions of PLC motion control robotics temperature control PLS MES data interface and more in a single standards-based software environment.
For more information visit www.elau.com or email info@elau.com.
Companies in this article