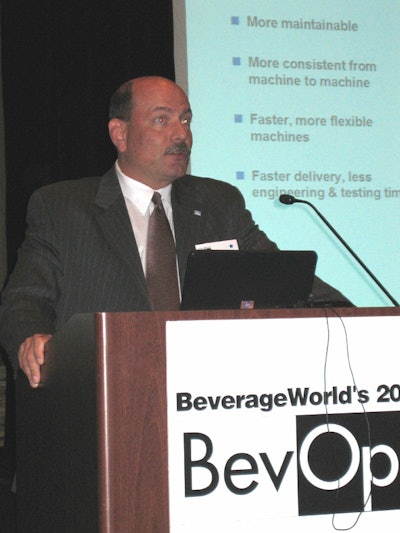 New beverage packaging machines: faster more flexible and integrated
Nearly 250 beverage industry leaders converged on Phoenix November 14-15 to hone their companies' production logistics and packaging capabilities. What they received was extremely practical information to increase operational efficiencies – along with a tour of Le Natures Inc.'s new 500 square foot state-of-the-art bottling plant.
Packaging industry speakers included Krones Inc. director of systems engineering Heiko Feuring and ELAU global marketing manager John Kowal along with operations warehouse design and material handling experts. Attendees included Campbell Soup Coca-Cola Coors Kroger Miller Brewing Nestlé Waters Pepsi-Cola Quaker Oats and a host of regional players.
From drinktec to interpack a rotary revolution
It was a big year for packaging trade shows including North America's annual PACK EXPO but also the triennial interpack and quadrennial drinktec. As a result leading machine builders launched a host of new advanced designs that were reviewed at BevOps. The biggest strides documented in a presentation compiled by packaging automation specialist ELAU came in capping labeling and secondary packaging systems.
Rotary cappers and labelers are quickly becoming mechatronic. Getting power and networks for servo into rotary machines had always involved a number of slip rings including high voltage AC and a costly fiber optic ring. Mounting servo drives was also an issue resulting in cumbersome 'dog house' electrical enclosures atop rotating carousels.
The Virtually Zero Cabinet initiative™
A more practical solution decentralizes the power distribution and drive electronics in such a way as to reduce the number and cost of slip ring connections wiring and associated failure points and cabinet space. As a result all the benefits of servo precision flexibility and throughput are now available in rotary machines. Key to this development has been the award-winning PacDrive SCL integral servo motor/drive which is purpose-built for rotary packaging machines.
In what ELAU terms its Virtually Zero Cabinet initiative™ or VZCi the company announced availability in late 2006 of an expanded power and application range for integral servo motor/drive technology.
Servo cappers
Beginning with the world's first servo capper from Krones and the first U.S. servo capper from Pneumatic Scale Angelus Sanitary Can's Arol Equatorque is the latest entry to leverage the PacDrive SCL technology. These cappers have dramatically improved torque control from +/-10 to 20% to +/-0.5 to 0.02%. Capacities range from 20 to 42 servo capping heads.
A long list of attributes for servo cappers include the abilities to self-calibrate with each cycle monitor quality data by-pass a malfunctioning spindle without interrupting production and perform tool-less changeovers in under 15 minutes.
Servo labelers
Labelers from P.E. SACMI and Sidel's recently acquired Alfa unit racked up equally impressive performance achievements. Here the servos are widely used to orientate bottle plates unwind and cut label stock apply labels precisely and synchronize turntable rotation with labeling operations.
Inline filler uses same technology
Another PacDrive SCL equipped machine highlighted at the conference was not rotary. An inline auger filler from Pneumatic Scale's Mateer Burt fits four of the compact motor/drives onto 3-inch centers to de-nest fill and seals single-serve coffee and tea filter pacs for Van Houtte Coffee a Kuerig licensee in Canada.
Each head has a cycle rate of 35 to 40 cpm and dispenses from 3 to 15 grams depending on the product. With the growing popularity of single-serve coffee pacs and pods this dry side of beverage packaging is poised for growth.
Modular software racks up big savings
It appears that ladder logic's holdouts in the U.S. market don't know what they're missing. But machine builders and packagers specifying ELAU's modular approach to IEC-conforming automation programming are tallying up impressive savings compared to decades-old "monolithic" programs that can be several hundreds of lines long.
Douglas Machine a leader in case tray and shrink wrap packaging documented engineering savings of 50 to 80% at a PACK EXPO conference presentation.
At the drinktec show in Munich case packer and wrapper maker Kappa Herzberger which recently merged with Smurfitt Stone cited a litany of savings for their modular software strategy that began by cutting their engineering time by 50% and commissioning time by 35%. Their customers are experiencing 75% faster cycle rates and 60% faster format changes.
Kappa machines are highly motion-centric using 28 servo drives to deliver 80% of the machine's operations. With the ELAU platform each servo is controlled by a software module meaning that software is responsible for that 80% instead of mechanical drivetrains.
Global trend
The trend to ELAU's modular software platform is coming from all of the world's centers of packaging machinery innovation. Douglas is U.S. and Kappa is German. Prasmatic is an Italian case packer wrapper maker with a strong following in beverage while Sentry is a new U.S. entry into modular case and tray packer/wrappers that's enjoying success in bottling operations.
This growing importance of software is consistent with predictions made at ELAU's 2003 technology forum (click here for related article).
Robots become embedded modules
There's no better example of modularity than the wave of robot modules that have been introduced in the past year. The presentation showed how cartoners and case packers are morphing into clusters of robot arms fed by servo collating belts.
For machine builders these embedded robots are a whole new profit center because kinematics expertise is no longer a barrier to entry. For packagers it's the ultimate in flexibility and there's no longer a need to support proprietary 'black box' robot controllers. This is because in ELAU's robotic software library the entire robotic function is controlled by an IEC conforming software module that runs in the same program on the same controller that's running the rest of the packaging process.
About ELAU
ELAU equips over $1 billion worth of the world's best machines annually with over 20 PacDrive systems already deployed in packaging machinery worldwide. PacDrive is the first truly integrated automation architecture capable of performing the functions of PLC motion control robotics temperature control PLS MES data interface and more in a single standards-based software environment.
For more information visit www.elau.com or email info@elau.com.
Companies in this article