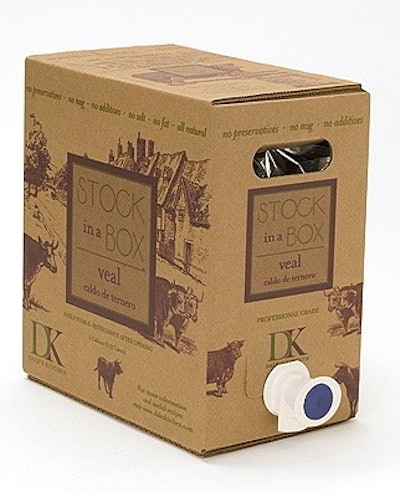 If International Dispensing Corp. is right, aseptic bag-in-box packaging is poised for a boost in growth.
IDC, Hanover, MD, offers patented dispensing technology that ensures aseptically packaged bag-in-box products maintain their sterility even after opening. This has not been possible before, according to IDC president and CEO Gary Allanson.
Allanson, who credits IDC founder Greg Abbot for the concept and development of Fresh Flow Tap, says "The weak link in aseptic bag-in-box has been after the packaging is opened." At that point, the package loses its sterility as oxygen or bacteria can enter the bag. Products must be refrigerated and shelf life is shortened.
With the Fresh Flow Tap (formerly called the Aseptic Gravity Flow Valve, GFV), high- or low-acid liquid products can be dispensed from a flexible bag or pouch without the loss of sterility of the contents. The one-way dispensing tap provides a seal that is tamper-resistant and provides an air-tight seal after opening.
Five-part tap
The injection-molded Fresh Flow Tap fitment consists of a five parts: body, silicon seal, actuator, check valve, and breakaway ring for tamper evidence. There's also a small, pressure-sensitive seal over the flow orifice.
The tap's key features include the following:
* Gravity-flow delivery.
* Product safety via anti-tampering protection
* No need for refrigeration after opening
* Steam sterilization to 300 degrees F or 5.0 megarands irradiation sterilization
* Space savings in distribution and storage versus bottles or pails.
The other BIB components of bag and box remain as usual. The fitment is heat-sealed to the bag and provided to the packager ready for filling.
Allanson says a rule of thumb is that in sizes of greater than 7 L, BIB packaging becomes more cost-effective on a per-pounce basis than other formats such as gable-top cartons or the equivalent number of PET bottles. It also cubes more efficiently than PET bottles, Allanson adds.
He reminds us that aseptic packaging generally provides better flavor than hot-filled containers due to the reduced time and temperature required.
IDC has been in serious discussions with a number of interested companies that include 30 contract packagers, according to Allanson.
Dale's Kitchen BIB stock
One of the latest users is Dale's Kitchen, Basalt, CO, a start-up venture co-founded by chef and restaurateur Charles Dale. DK debuts in October as a three-product BIB line of premium stocks, Stock in a Box, used as a base by restaurants for soups and other foods. The 2-gal BIB yields 64 4-oz servings. Thanks to aseptic technology, the premium stocks are formulated without added salt or preservatives such as monosodium glutamate. That's huge, according to Dale.
"Most of the stocks available today are food science, which real chefs shy away from," he says. "Although stocks are shortcuts for food preparation, they are not up to the standards of the best culinary schools and restaurants."
Food science, Dale explains, refers to stocks, or partially reduced pastes, that are often full of sodium and other additives. "There are aseptic products that are billed as wholesome, but they are actually made from reduced pastes."
Dale also notes other products are frozen and must be reconstituted. "For my palate, there is a difference when you reconstitute with water compared to a product's natural form.
"My chef-quality products are made by a chef for chefs, without preservatives or additives. And with shelf stability, and sterility that is maintained during use by the one-way tap. It's the tap's hermetic nature that maintains the fresh flavor profile before and after opening. This is a symbiotic relationship of product and packaging that addresses convenience, safety, shelf stability, cost savings, and product quality."
The products will have at least a six month's unopened shelf life at ambient conditions and another 30 days once opened, according to Dale.
"Product that's been opened in my refrigerator for 60 days is still fine," he adds.
Dale was considering permitting users to keep the product at ambient after opening due to the barrier afforded by the Fresh Flow Tap, but decided that widely varying kitchen conditions could affect the product quality. "Kitchen temperatures can go to 100 degrees plus, so we felt it was better for product flavor profile to keep it refrigerated," Dale says.
Packaging challenges and details
Dale says that finding a contract packager has been a challenge. "There are only about a dozen plants in the United States that operate low-acid production facilities," says Dale. "Finding one willing to take on a small, start-up company was not easy." The contract packaging is done by Gehl's Guernsey Farms Germantown, WI, using a DuPont Liquid Packaging Liqui-Box filler modified to fill the high-barrier bags through the IDC tap. The barrier bags, made of metallized film, are supplied by DuPont Liqui-Box with the tap already heat-sealed. "We're the pilot project for this," states Dale. "Gehl's also feels strongly that the tap is going to revolutionize foodservice products."
Box graphics designed by Aspen Graphics are tastefully color-coded thematically by product: the vegetarian stock features a predominately green box with vegetable and herb graphic elements; the chicken stock uses country and poultry elements with a background golden yellow color; and the veal-based stock is in a burgundy and green colored box with cow graphics (shown). The boxes are flexo-printed in two colors. The products, in veal (shown), chicken, and vegetable formulations, will be priced near $35, $20, and under $20, respectively.
Problem solver
One of the key issues the stocks address is rapidly rising labor costs, which cut directly into profit margins.
"Easily recognized by type, these products will help operators reduce their labor costs," Dale says. "And chefs can reduce the time they have to spend in the kitchen in preparation and allow more time for creativity."
However, he says that the strong selling points for Dale's Kitchen will be that the products address food safety concerns, thanks to the tap. "The products resolve health hazard issues compared to the alternative of unused portions that, if left uncovered, can become cross-contaminated. Our products are hermetically sealed and stay that way."
Design artistry
Dale, who has studied architecture, calls the tap an elegant solution. "The tap is an extraordinary example of form and function," he opines. "It's aesthetic and compact, yet large and solid enough to withstand the rigors of constant use." In tests, the valve has maintained sterility through 750 dispensings.
Dale remains utterly convinced of the tap's safety.
"Our products will be safe and taste great," says Dale. "It will allow me to sleep at nights. I wouldn't undertake this project if I didn't feel I could make a difference in the marketplace."
Ardmore Farms
Country Pure Foods, Akron, OH, is a contract packager and marketer of Ardmore Farms brand products, manufactures bottled water, 100% fruit juice, fruit juice drinks/cocktails, nectars, and coffee. The company plans to launch a line of aseptically packaged 100% juices in 8-L BIB using the Fresh Flow Tap for club store sales this fall, according to Allanson. The products will have six month shelf life. CPF is planning to install a new filling machine in late summer.
The Fresh Flow Tap earned packaging technology recognition in 2003 from the Flexible Packaging Association (Technical innovation shines) and in the DuPont Awards.
Companies in this article
Videos from Universal Labeling Systems, Inc.