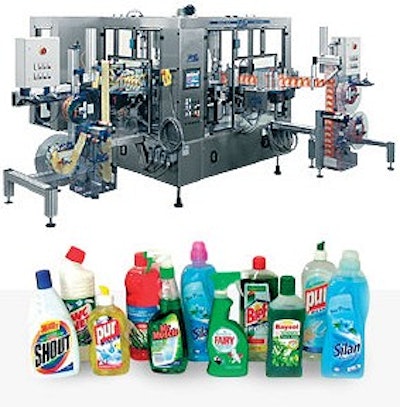 Servo labelers take center stage at drinktec
Labelers will demonstrate increased efficiency and flexibility for beverage makers at the drinktec show at Munich's Neue Messe fairground this September 12-17. Using the servo technology that's revolutionized rotary cappers rotary labelers are one of the big stories at drinktec.
P.E.'s Rollmatic labeler reduces change parts
Hall A3 Stand 413
Since 1974 P.E. has delivered over 4 automatic labeling machines worldwide for soft drinks mineral water food wine spirits chemicals and more. At drinktec P.E. will show a complete line of labeling printing and marking machines including cold glue hot melt and self-adhesive labeling reel-fed film labeling and bottle finishing machines. P.E. has a labeler for all applications with speeds from 60 to 1 bottles per minute.
Their new Rollmatic combines changeover flexibility and preventive maintenance features to maximize uptime. An advanced PacDrive SCL automation system from ELAU allows servo rotation of bottle plates for precise and rapid application of any type and number of labels required.
The exclusive PacDrive technology enables programmable changeovers with minimum change parts. For added flexibility cold glue and self-adhesive labeling stations are interchangeable on the same machine. An automated lubrication system removes the cost and variability of manually performing this routine maintenance task.
LM Labeling's servo lane divider
Hall A3 Stand 540
LM Labeling provides beverage producers with conveying and intermediate storage solutions for bottles cans soft packs and bags cases cartons and other containers.
LM Labeling will introduce a new multi-lane 2 axis servo-driven divider using ELAU's PacDrive automation system. The servos control rapid transverse and longitudinal movements of telescopic guides to execute lane changes. The guides maintain positive control of products on two sides without need for additional fixturing. Speed and sequencing are controlled automatically with fast pushbutton size changes.
The company's sophisticated handling systems include spiral conveyors for cooling and freezing elevators turning and overturning equipment accumulation systems and more.
LM Labeling chose ELAU's PacDrive automation system for its new 2-axis multi-lane divider for a flexible cost competitive control solution that requires only one controller to integrate both motion and logic.
SIG Alfa labeler uses up to 52 servos
Hall A4 Stands 127 149 526 548
SIG Alfa Is one of the world's leading manufacturers of linear and rotary automatic labeling machines for the application of pre-cut or roll-fed labels. Stock may be paper or plastic using hot melt or cold melt glues or self-adhesive. SIG Alfa's machines are designed for use from beverages to food personal care to pharmaceuticals and are widely used in milk wine and spirits packaging.
SIG Alfa's latest self-adhesive bottle labeler uses ELAU's PacDrive software camming capability to automatically match different bottle shapes to label requirements. Mechanical machines can only handle one shape and size of bottle without a cam change.
Utilizing PacDrive SCL integral motor/drives on the bottle plates the advanced design can both rotate bottles while operating at high speed and adjust to different bottle shapes.
The modular design can be equipped with up to eight labeling groups and 38 servos. The largest planned model will have 52 servo axes all of which can be accommodated by a single ELAU automation system because it is a scalable platform. The result is a machinery family that simplifies rapid label and package format changes an increasingly important capability.
Finpac's 9-axis servo labeler
Hall A5 Stand 501
Finpac will introduce its new SHM HS 9-axis servo labeler which combines high production speeds with quick changeovers and ease of use. The new design takes advantage of integrated motion and logic control in a single program running in ELAU's PacDrive automation controller. PacDrive also enables Finpac's remote diagnostic capabilities and modular software design to reduce its customers' Total Cost of Ownership.
Finpac specializes in filling and decoration/labeling systems supplying sleeves and labels in addition to both individual application machines and filling/labeling lines and contract packaging services.
SACMI Labelling makes sleeves from roll stock
Hall B5 Stands 100 112 402 412
SACMI's new Opera 400 33T is a roll-fed machine that performs quality shrink labeling formed from economical rolls of label stock replacing shrink sleeves that cost 3 to 5 times more. This design integrates precise unwind control functionality with UV stabilized hot melt gluing of label stock prior to heat shrinking.
Labels are produced from pre-printed roll stock by means of a cutting and transfer group. Key to precisely applying wrapping and gluing the labels are the cutting unit and the synchronization of up to 45 bottle plates in phase with table rotation. Each bottle plate uses an electronic orientation system for accurately placing the labels on the bottles in a predefined position.
A PacDrive system from ELAU makes servo control of each of the practical. And it significantly reduces the size of electrical cabinets used to house conventional servo drive electronics. A new generation controller the PacDrive C600 supports both the large number of servos and the need to run powerful software including the servo-driven label unwind printing and registration control and synchronized table and plate rotation.
The label is then affixed with a special hot melt adhesive and UV cured. Curing alters the glue's physical and chemical properties (called reticulation) to thermally stabilize it before the trip through the shrink tunnel. In collaboration with ELAU SACMI has optimized control over the variables in label application and heating processes to assure that labels conform properly to bottle profiles regardless of shape.
ELAU's award-winning servo technology for rotary machines
Hall B4 Stand 335
ELAU equips over $1 billion worth of the world's best machines annually with over 25 PacDrive systems already deployed in packaging machinery worldwide. PacDrive is the first truly integrated automation architecture capable of performing the functions of PLC motion control robotics temperature control PLS MES data interface and more in a single standards-based software environment.
ELAU's award-winning PacDrive™ SCL integral servo motor/drive technology has proved the key enabling technology to transform mechanically driven rotary labelers into true mechatronic servo machines. PacDrive SCL vastly simplifies the installation of servos on the machines' rotating carousels making servo control feasible for the first time.
For more information visit www.elau.com or email info@elau.com.
Companies in this article
Videos from Universal Labeling Systems, Inc.