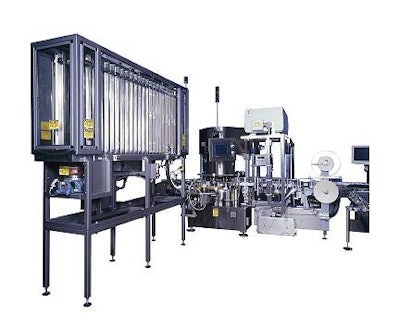 Applying more than labels
Weiler Labeling Systems' general manager Tom Pituch has vision literally. At this year's IoPP Eastern Equipment Committee Seminar in Secaucus NJ he shared recent and future trends in pressure sensitive labeling machinery with some 60 attendees.
Chief among these is the revelation that driven by pharmaceutical regulatory requirements today's labelers have actually become inspection machines equipped with vision bar coding and missing label detection systems. Perhaps this is a tribute to their position in line the final step before secondary packaging obscures some aspect of the primary package.
Equally important is the vision of the machine builder who recognizes that his company can add value by integrating new functionalities into a single automated packaging platform. As an example he pointed to a recent application in which a dosage cup is applied to the top of a bottle as the bottle is being labeled and inspected at a rate of 350 cpm.
Going rotary
Pituch sees rotary machines as especially well suited to new multifunctional monobloc concepts incorporating assembly and inspection of all manner of complementary components such as dosage cups dosage meters and IV bottle hangers. After all he notes product handling is built into the machine so why not make use of this fact while the package is under your control? The result is reduced floor space and personnel requirements elimination of redundant product handling and inspection steps and reduced changeover time and cost.
More functionality more servos
Non-proprietary controls and increased use of servos are key to achieving the increased functionality. Just as the 1990's saw the advent of positive ejection of mislabeled containers without stopping high speed labelers Pituch foresees the use of servo main drives that will slow or pause the machine so that containers are not missed. In the event that a label is misapplied why not include a label removal system that is both verifiable and reconcilable? Not only is scrap prevented so is the risk of a mislabeled product inadvertently being reintroduced to the packaging line.
Already servos are even replacing quick change cams allowing changeovers from round to oval containers with the push of a button. Servo feedscrews automatically change pitch. And in the future servos will expand into rotary platforms.
What's next?
Eventually Pituch asserted every mechanical component on a machine will be driven by a servo. Smaller smarter and more economical servo packages are allowing the industry to move in these directions.
For example why wait for the label web to index when servos can synchronize a continuous labeling process with the labeler following the position of the product and self-correcting on the fly? In such a system the label web only stops if product is not present. Such a continuous system would also be gentler on materials and equipment. This would allow use of lower cost paper liners and reduce wear on label heads in high speed 1 cpm operation.
And like the development of the pressure-sensitive labeling technology itself over the past two decades Pituch noted the remarkable advances in the speed of today's laser ink jet and vision systems. Ultimately labels will be printed entirely on-line not unlike the print-on-demand technology that has revolutionized personal computing.
For more information visit www.weilerls.com or call 856/273-3377.
Companies in this article