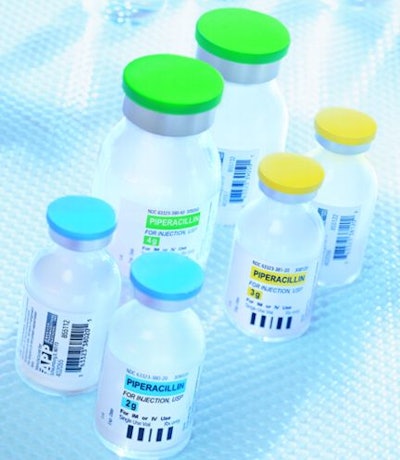 Manufacturers of both over-the-counter and prescription drugs are scrambling to figure out what kind of packaging redesigns and packaging line upgrades will be necessary in the wake of the Food and Drug Administration's final rule on bar coding of drugs. The rule was issued February 28, is effective April 26, with enforcement to begin April 26, 2006.
Not that there is much that is surprising in the final rule; most of the language follows the March 2003 proposed rule, except for some welcome new language on exemptions. The bar-code ruling applies to prescription and OTC drugs as well as to blood and vaccine products commonly used in hospitals and dispensed to order.
These products must have linear bar codes that include the National Drug Code (NDC) for each product. The bar code can use Reduced Space Symbology (RSS), which allows for a greatly reduced bar-code size. That would make the bar code small enough to fit on almost all packages, though unit-dose blister cells, which also must be bar coded, could be a problem due to their small size.
However, the FDA ruled out two-dimensional data-matrix bar codes, which are even smaller than RSS codes and better suited to the tiniest of packages. That was probably due to the relatively few institutions equipped to read those codes.
Costs estimated
For existing products, companies have two years to comply. For brand-name and generic companies, the FDA estimates costs of up to $28.1 million over the next two years, mostly attributable to redesign and bar coding of unit-dose primary packaging. Modifications to secondary packaging that include NDC information will cost $6.1 million over that time. OTC drug manufacturers, repackagers, and relabelers will spend $19.9 million on modifications over the next two years.
Although RSS bar codes containing just the NDC may fit on many blister cells, it will not be true in all cases; it depends what other information is currently written on the foil backing and whether the company wants to add a production lot number and expiration date to the RSS bar code. That would mean a second line of "stacked" numerics, leaving even less room for other information.
These uncertainties worry Dave Spangler, vice president international and assistant general counsel for the Consumer Healthcare Products Association (CHPA), the trade association for makers of OTC products. He says, "If our companies have to put a bar code on the blister cell, there won't be enough room for the other information the FDA requires them to put there."
Two exemptions
The FDA realized these potential difficulties and inserted two different kinds of possible exemptions in the final rule. First, there are blanket exemptions for drug samples, allergenic extracts, intrauterine contraceptive devices that are regulated as drugs, medical gases, radiopharmaceuticals, low-density polyethylene form/fill/seal containers, and prescription drugs sold directly to patients.
In addition, the FDA tossed in a general exemption if a company can prove that "compliance with the bar code requirement would adversely affect the drug's safety, effectiveness, purity, or potency or not be technologically feasible." The request for an exemption must also explain why the problem cannot be reasonably remedied by measures such as package redesign or use of overwraps.
But the agency says exemptions will be "rare." That is why Rich Hollander is scratching his head as he contemplates bar codes for Pharmacia's and parent Pfizer's unit-doses, ampules, and other small, curved packages that have yet to be bar coded. Pfizer completed putting RSS/CC (composite code) bar codes on its solid-dose, unit-dose hospital packages--there are 30 SKUs--at the end of 2003. Pfizer voluntarily put lot number and expiration date in those bar codes.
Dealing with smaller packs
Things will get a little more complicated, however, as Hollander, Pfizer's senior director of packaging services, turns to even smaller packages such as ampules and injectables. These labels are currently etched by lasers or printed by ink-jet or hot-stamping equipment applied on packaging lines at speeds up to 600 units/ min. HUD (hospital unit-dose) blister cells, by contrast, typically use flexographic printing for their labels.
Laser etching and RSS/CC bar codes containing all three data elements—NDC, lot number, and expiration date, again--may be a bad match because longer processing speeds are required to etch so large a message. So companies may have to consider alternative options such as an RSS code for just the NDC number and a second, two-dimensional code that would include all three data elements.
The RSS would meet the FDA requirement and satisfy some hospital needs, whereas the second, more-inclusive code would meet the needs of hospitals clamoring for not only the NDC but also lot number and expiration date. That second, optional bar code could be via data matrix, which measures 1/4-inch-square. The physical dimensions of an RSS/CC code printed by Pfizer is approximately 1/2 inch x 5/8 inch.
Pfizer's RSS/CC bar coding for solid-dose blister cells has been done at three Pfizer locations in Puerto Rico; one in Brooklyn, NY; and at a contract packaging plant in Lakewood, NJ. Hollander says that the company made only minimal investments to accommodate printing of the RSS codes prior to their full implementation.
New technologies
Recently, though, Pfizer did invest in improved printing technologies at two of its sites to improve print quality and gain production efficiencies. "These new printers use UV-curable ink, which controls the spread of the ink when it is laid down on the package," Hollander explains. The print quality of those bar codes at all five sites is well above the level of "C," he says. The American National Standards Institute (ANSI) standards specify print-clarity levels in descending order from "A" to "F." A "C," says Hollander, is rare.
Companies that decide to use only the NDC will have less of a problem fitting an RSS code on a small package, although printing quality and packaging line speed could still be an issue. There is another option, however. Some drug manufacturers have reduced the size of traditional, linear UPC codes (which generally contain an SKU's NDC, but not its expiration date and lot number) to get them onto packages with minimal real estate.
American Pharmaceutical Partners, Schaumburg, IL, sells around 300 SKUs, all hospital injectables, and some in vials as small as 2 mL. To address the needs of its customers, APP began putting bar codes on its products at the individual unit of use beginning in 2001. It did that by reducing the UPC code from between 40% to 80% of standard size.
The only problem with that approach is that Uniform Code Council (UCC) guidelines say that a UPC bar code can only be reduced to 80% of its conventional size. Companies such as APP take a risk when they drop down the size of the bar code to 40% of normal, as APP must do for its 2-mL vial; a scanner may not be able to read the code.
Drug stores can, and have, fined drug manufacturers whose bar codes have proven unreadable. Hospitals can do the same thing. The UCC's director of health care John Roberts says that when he attended a recent show of the National Association of Chain Drug Stores (NACDS), he heard from drug companies that had been fined. He declined to identify them. "A 50¢-per-case fine may not seem like much at first," he says. "But if you sold 10ꯠ cases to a drug chain, it can be substantial."
Companies in this article
Videos from Universal Labeling Systems, Inc.