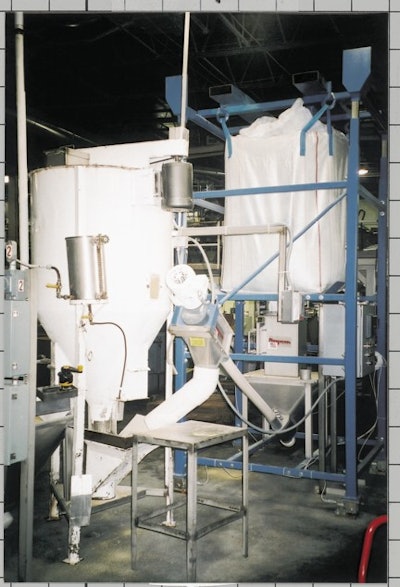 In years past, Snyder of Berlin required two workers to manually dump 100-lb bags of cornmeal into a vertical blender used to make cheese curls and puffed corn that's subsequently conveyed to vertical form/fill/seal equipment for packaging.
However, labor costs, worker safety, product quality, and sanitation concerns led the Berlin, PA-based snack maker to purchase an automated cornmeal unloading system from Flexicon.
Snyder now receives cornmeal for its cheese curls and puffed corn in more economical 2ꯠ-lb flexible totes. "The top four corners of the tote have loops so the forklift can pick up the tote and place it onto the frame of the bag discharger unit," explains Joe Lahm, Snyder's process manager. "The cornmeal is dispensed from a valve at the bottom of the tote."
From Flexicon's bulk bag discharger, meal descends by gravity into an 8' cubic hopper. A 5'-L, 4"-diameter flexible screw conveyor carries the product to a 1ꯠ-lb-capacity vertical blender where the meal is moistened. Product is discharged by gravity into a 5-cu' hopper. Two more conveyors carry it to two extruder surge hoppers. The 4"-diameter conveyors are made of an ultra-high-molecular-weight polyethylene outer tube the encloses a flexible stainless-steel spiral driven by a 1.5-hp electric motor.
After extruders squeeze out "collettes," the product is dried, sprayed with cheese and oils, and conveyed to vertical form/fill/seal equipment for packaging (add Snyder of Berlin story link here).
"When we want to dispense cornmeal, we punch the amount to dispense into a keyboard and the auger dispenses it out to the mixture," says Lahm of its accuracy.
Besides its accuracy, the Flexicon equipment saves labor costs for Snyder of Berlin. "Before, people had to cut the bags open and dump the cornmeal into the mixer. We were able to eliminate one person per shift with the equipment," concludes Lahm.
Companies in this article