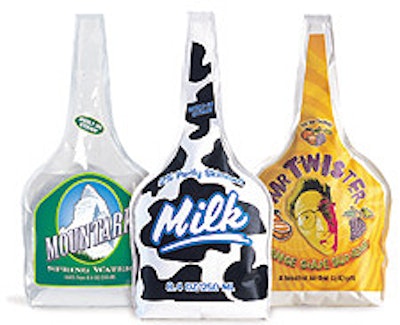 Exhibitors at WestPack seemed content with traffic and leads. Typical comments from exhibitors: "We're very pleased. We're not seeing the big-project type of thing that you'll sometimes encounter at shows, but there's been plenty of leads. Even if they're not huge projects, there's nothing wrong with that. That's how business builds sometimes."
"The show is better than we thought it would be."
"Great show. Good traffic. But I do wonder about next year. (Editor's note: WestPack is now going to an every year format instead of every other year.) The January 6-8 dates are awfully close to the holidays."
"Booth visitors are from Colorado and west, but that's as it should be for a western show. Traffic and leads are fine."
"Good show. Got about 50 leads yesterday and we'll probably get as many today. It's a good way to get the year off to a start, get some leads to work on. But next year? Two years in a row? We may not be able to come."
Also noted were several non-exhibiting machinery or materials suppliers whose representatives were walking the show to determine if it's something they should exhibit at in the future.
What follows is a glimpse of news gleaned at the show. It is by no means comprehensive.
1. Siptop Packaging Inc. of Mississauga, Ontario, Canada is building a "state-of-the-art" beverage copackaging facility with a "revolutionary new beverage packaging technology" that produces a package called the Siptop (see photo). Siptop's form/fill/seal machine produces an innovative stand-up pouch that is said to be low-cost, environmentally friendly, and fun to drink from. Its built-in straw is convenient and, says Siptop Packaging, neater than typical pouches with straws. The Siptop, it should be noted, looks a lot like the pouch promoted a few years ago by Arkmount, also of Mississauga. For more information, visit www.siptop.com
2. Bruce Stimpson talked to show-goers about foodproductsglobal.com Inc., an interactive and informative Web site designed to give users immediate access to all aspects of the global food business. Stimpson is president. See www.foodproductsglobal.com
3. Integrity Seal Intl. of Willkes-Barre, PA, announced it will introduce an "environmentally friendly" oriented polystyrene film that's 100% recyclable. It's for shrink labels, TE sleeves, and multipack sleeves. Visit www.integrityseal.com
4. Klockner Pentaplast of America, Gordonsville, VA, will acquire substantially all manufacturing assets of Delaware City, DE-based VPI Mirrex LLC. "This opportunity certainly complements our portfolio of products,and is consistent with our rigid film growth strategy," said Michael Tubridy, Klockner executive vice president. Visit www.kpfilms.com
Companies in this article
Videos from Klöckner Pentaplast Food Packaging