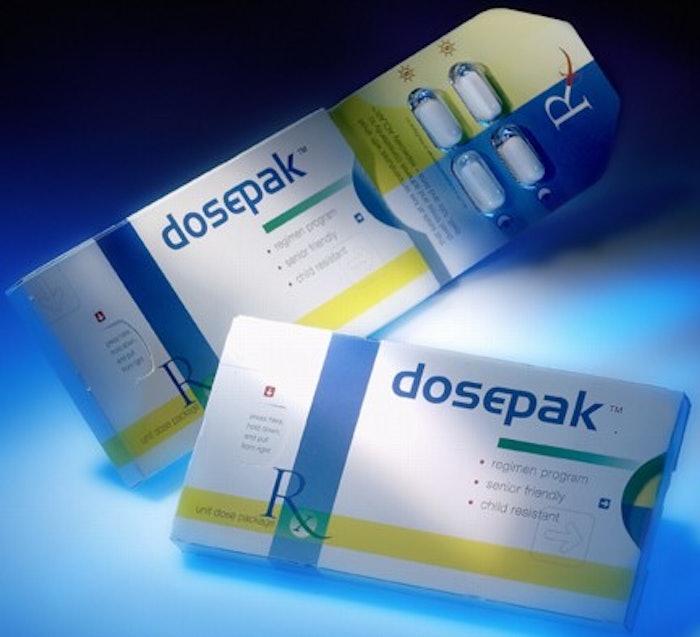 After sending a blistering letter on blister packs to the new chairman of the Consumer Product Safety Commission (CPSC), the Healthcare Compliance Packaging Council (HCPC) won a meeting with top commission staffers November 18.
The purpose of the meeting, according to HCPC Executive Director Peter Mayberry, was to "take the temperature" of the commission on the issue of child-resistant (CR) packaging protocols. HCPC's letter to new CPSC Chairman Harold Stratton alleged that drug manufacturers were refusing to use CR blister packs because the agency's packaging protocol makes the blisters nearly impossible to open.
Renard Jackson, executive vice president of the packaging services group at Cardinal Health, Inc., Dublin, OH, was one of the HCPC attendees at the November 18 meeting. "The CPSC staff was very understanding of the issues and problems with the CR protocol," he reports. "They promised to look into the data we presented."
Cardinal is one of the very few companies that sells CR blister packaging for pharmaceuticals. Cardinal's two offerings are the "E-Z tear" and "Slide Pack." Jackson admits that no drug companies use that packaging, even though the packages have been rated "senior-friendly" and "zero-open" by the CPSC. The latter term means that none of the children on a test panel could open the blisters in the first five minutes of a test period.
Zero-open=no one uses?
Jackson says that MeadWestvaco Packaging System's (Atlanta, GA) Dosepak[tm] is the only other CR blister that is also rated senior-friendly and zero-open. Amanda Brown, a spokeswoman for MeadWestvaco, says the company has sold Dosepak to a number of pharmaceutical companies, but she declines to identify any of them.
But the fact that Cardinal and MeadWestvaco make senior-friendly CR blisters has not led to drug companies beating down their doors. Cardinal's Jackson says that even conventional blisters, which are easier than CR blisters to open, would be a considerable safety improvement over the cap-and-vial in which most drugs are packaged.
The CPSC's CR packaging requirement applies to all prescription drugs and some over-the-counter categories such as ibuprofen, aspirin, some antihistamines and some topical anesthetics.
One CPSC staffer recently gave a boost to the notion that requirements for CR packaging ought to be eased. Gregory Rodgers, a member of the directorate of economic analysis at the CPSC, published an article called "The Effectiveness of Child-
Resistant Packaging for Aspirin" in the September 2002 issue of the [I]Archives of Pediatric Adolescent Medicine[n]. Rodgers makes it clear that CR cap-and-vial closures have significantly helped reduce child aspirin poisonings. His study refutes a 1985 study that found no effect on poisonings. Rodgers adds, "However, despite the overall positive effect of this packaging, the results also suggest that it is only partially effective; therefore, further poison prevention strategies need to be developed."
One packaging official at a major drug company declined to comment on-the-record on this issue, which he termed controversial. Many companies would like to use blister packaging more widely--not necessarily CR blisters--because of the prevailing concerns over medication errors.
This has to do with fears that both hospitals and pharmacies are making too many errors when they dip into 1ꯠ-count jars of pills to get either a unit-dose for a patient, or make up a conventional 30-count vial for a drug store customer. The unidentified packaging executive says the prevalence of this packaging is "driven by the evaluation criteria in determining a failure for a blister card."
Update needed?
The CR protocol was developed 30 years ago upon the passage of the Poison Prevention Packaging Act. Cap-and-vial closures were the only CR packaging on the market at that time. The HCPC has a number of problems with that protocol.
First, it argues that the protocol "requires that packages be fortified to the point where they are extremely difficult for adults to use properly." Second, also in its letter to Stratton, the HCPC complains that the protocol contains several extremely subjective provisions relating to unit-dose formats. "The end result being that pharmaceutical manufacturers who wish to use unit-dose formats must draw their own conclusions as to when a package has 'failed' the protocol--a circumstance which, based on your legal background, I am sure you would understand to be problematic for a manufacturers' legal counsel."
Ken Giles, a spokesman for the CPSC, notes that the commission's CR packaging is considered to be one of its most effective rules. "Why change something that has proven to be a life-saver," he asks? On the other hand, Giles also admits that blister packs "slow kids down."
Biggest barrier
There doesn't seem to be any controversy about unit-dose packaging being a better barrier to child poisonings than cap-and-vial closures. The Food and Drug Administration (FDA) acknowledged that fact in 1997 when it mandated that iron supplements containing more than 30 mg of iron per dosage unit be packaged in unit-dose packaging.
The agency noted in its final rule that "21 of 26 pediatric iron poisoning deaths in which the type of packaging was reported, the product was packaged in CRC type packaging," which is to say cap-and-vial. The FDA stressed that even conventional unit-dose packaging limits pediatric access to multiple dosage units of product.
In its letter to Stratton, the HCPC maintained that the CPSC's own statistics show that there has never been a pediatric death as a result of a child opening a blister pack and ingesting a fatal drug dosage.
Of course, as Mayberry acknowledges, the percentage of OTC and prescription drugs packaged in unit-dose formats is small. Mayberry estimates the format constitutes 20% of the prescription market, and birth control pills, which are of low toxicity, make up the lion's share of that percentage. So one would expect pediatric poisonings with cap-and-vial to outnumber those from blisters.
Still, whether in agreement with HCPC or not, it may be time for the CPSC to re-examine its regulations in light of packaging that has been developed since then.
Companies in this article