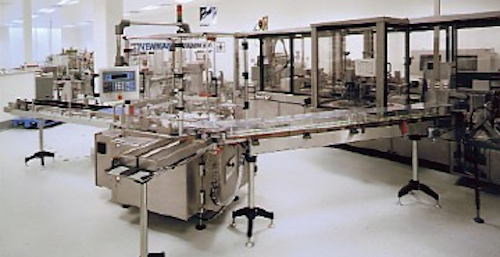 In October, a Newman (San Diego, CA) VAL550 labeler replaced three offline print-and-apply systems. Newman integrated the labeler to an existing Dividella (Wareham, MA) pharmaceutical packaging line. The labeler applies self-adhesive labels to glass ampoules in five sizes, and a single-size vial at speeds of up to 500 containers/min. operating around the clock.
"This was a challenging project [for Janssen] because it involved the use of self-adhesive labeling on an ampoule production line, coupled with high output speed," says Koen Hontele, project engineer at Janssen. "The success of the project can be measured by the positive views of [Janssen's] line operators and the quantifiable cost savings recognized."
Janssen also installed a Newman fully-validated product and label security system, which includes an Easisplice 470 splicer that allows uninterrupted production during label splicing and replenishment.
Sub-systems on this application include an Open Date (Georges Mills, NH) Printmaster 1000 hot foil coder and a Romaco Laetus (Prompton Plains, NJ) 6012 bar code reader complete with code camera.
Companies in this article